How to create the perfect Christmas table
Christmas is the best time of the year for setting the most divine tablescape and invite all your loved ones for a night to remember.
It can be easy to create a show-stopping table using some simple rules but make sure you bring your own creative touch to your table setting.
You should also start thinking about it some weeks in advance of the big day to enjoy and to achieve a professional look that will delight your guests.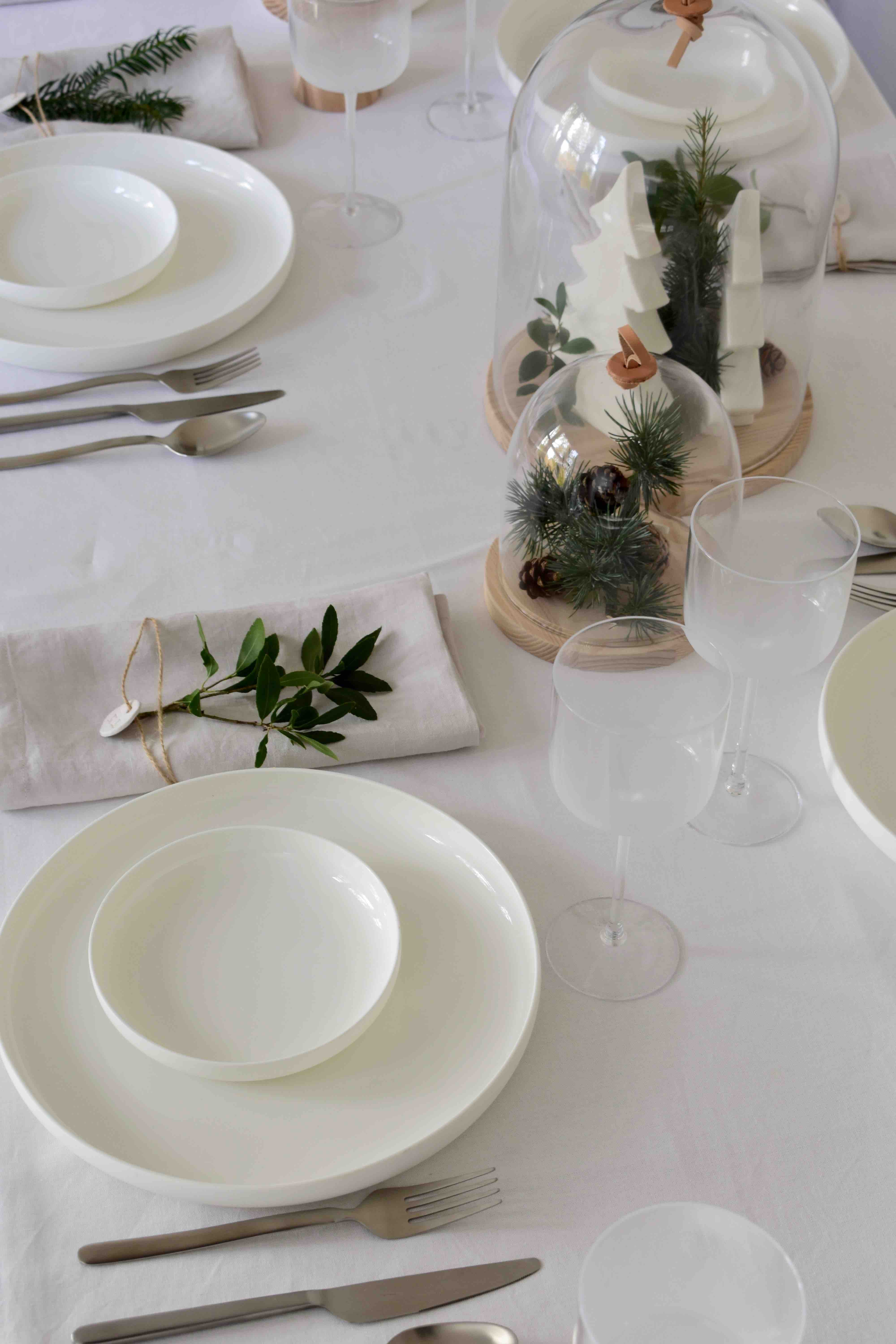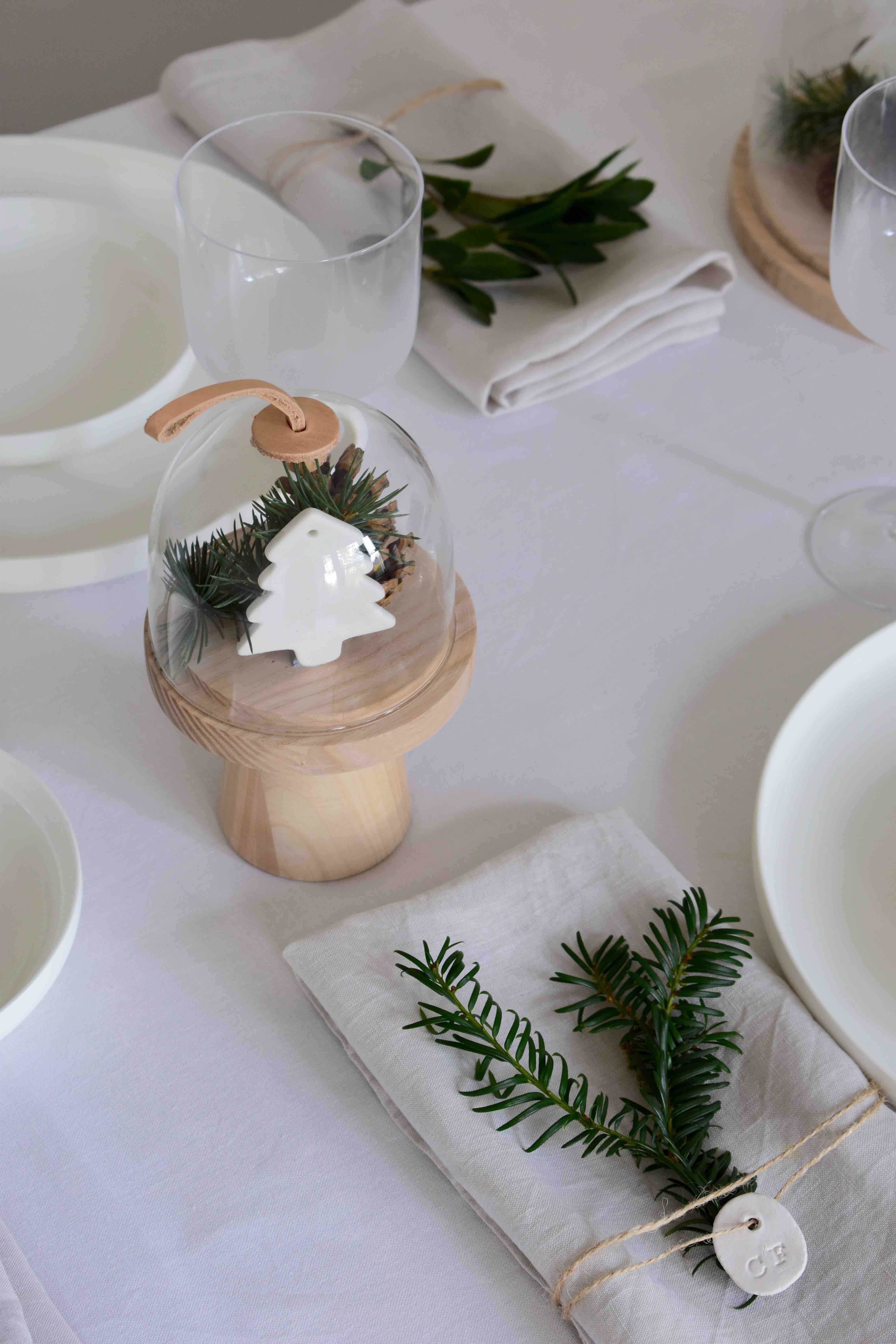 1. Theme
I think it's always good to have a clear vision of the overall look of your table.
Try to pick a theme you like (white Scandinavian Christmas, magical rustic forest, gold chic modern, traditional red and green socks…) whatever your concept is, try to limit yourself to two or three colours and tied it together with your home decoration. If you already have a Christmas tree or fireplace ornaments set up, think how you can blend it with the rest.
Ensure everything flows and make sure you use some repetition in your decor to create a Cohesion. All elements should complement one another.
Also consider your dinner party and design a menu that will compliment your table look.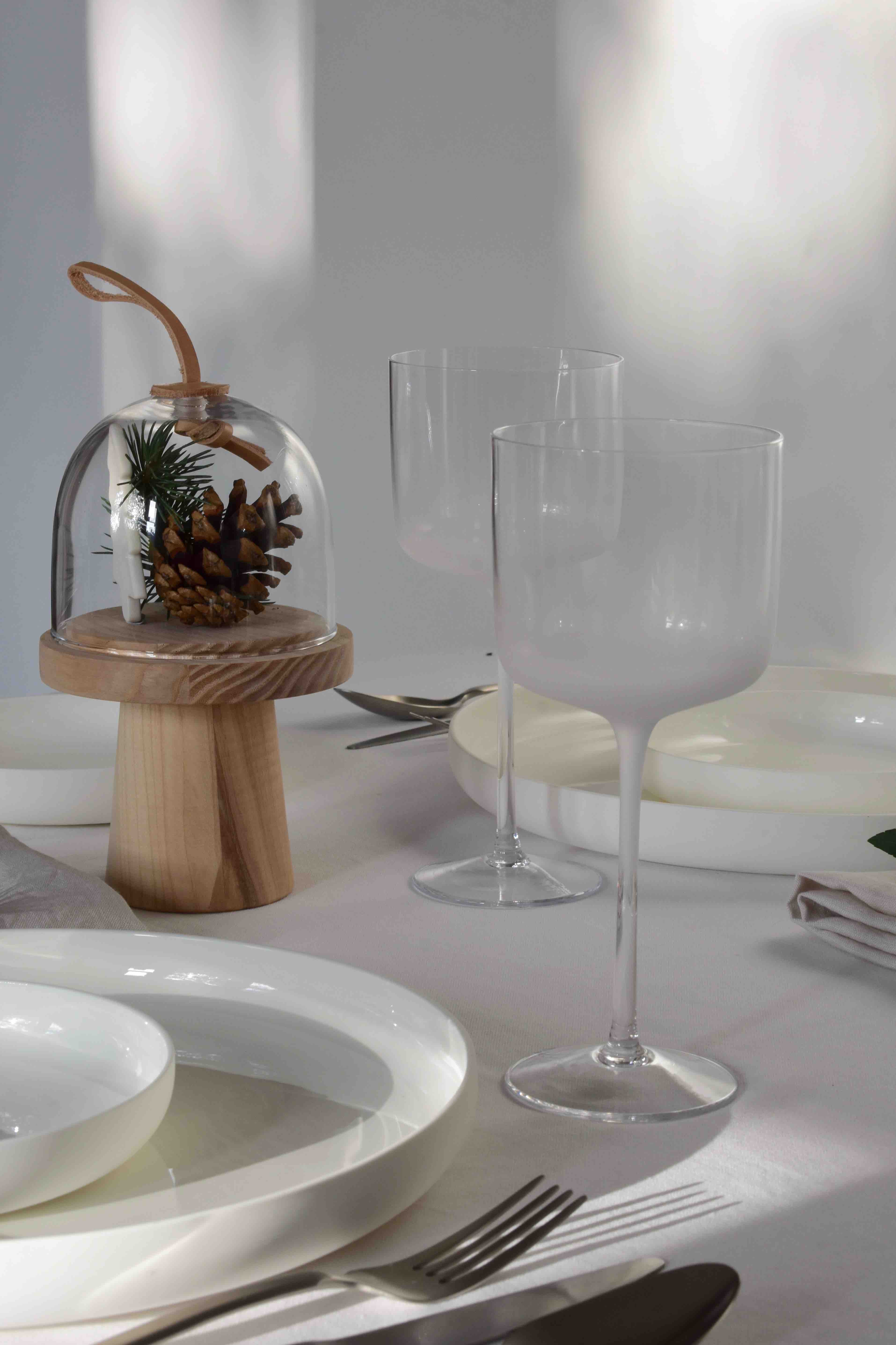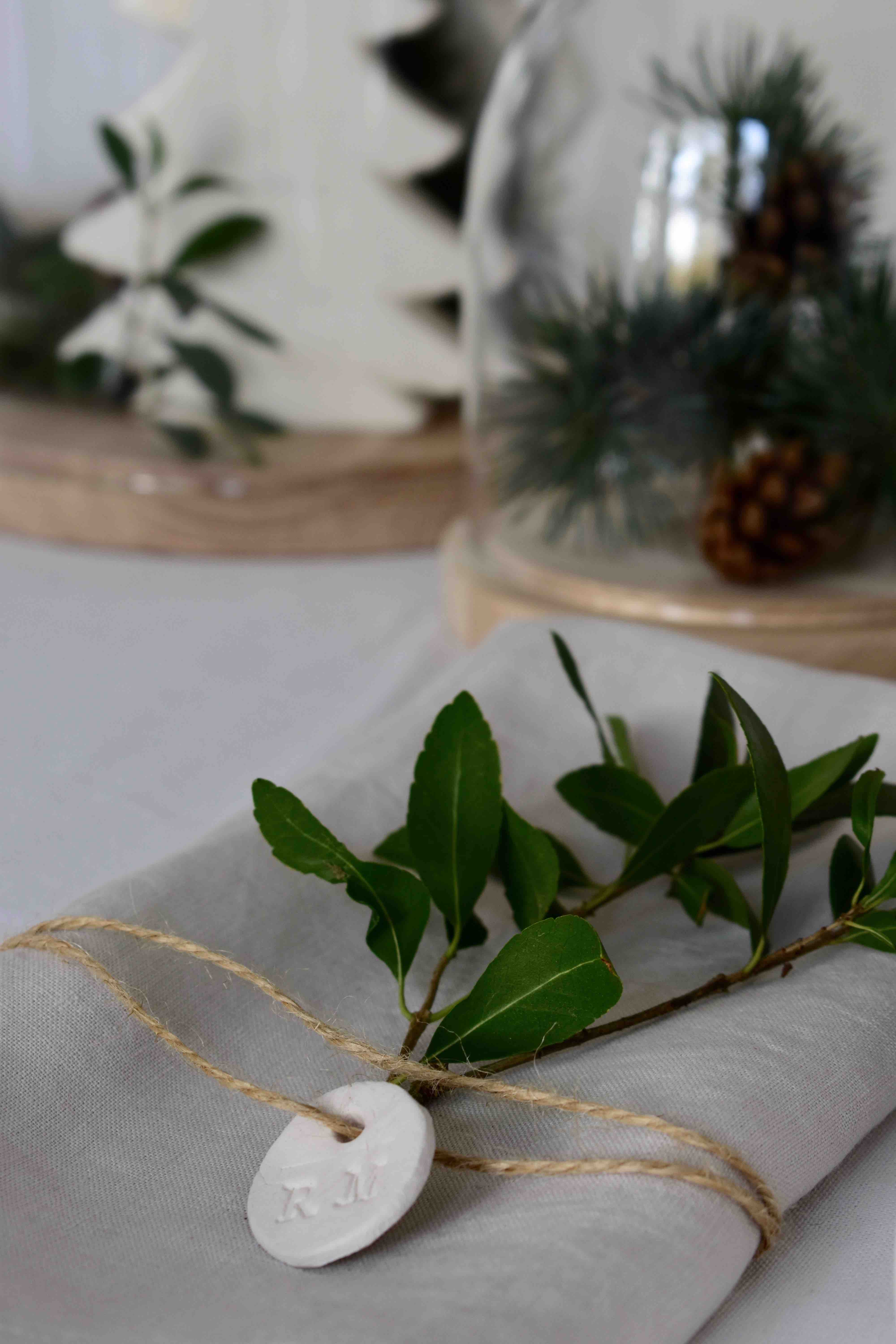 2. Personalisation
It's crucial to make your table the personal. You want your guest to be curious and feel special. You should think about the first few minutes they will spend discovering the table for the first time and make it as surprising as possible.
Having name tags is a must, Its a little memories guests can leave with and its also a great opportunity for you to create a table plan that will engage your guests.
Again this can be a great opportunity to be original. Place cards with beautiful calligraphy names, you can use stamps letters and air drying clay, monogram napkins if your budget allows it, gift tags with glitters or gingerbread biscuit with initials…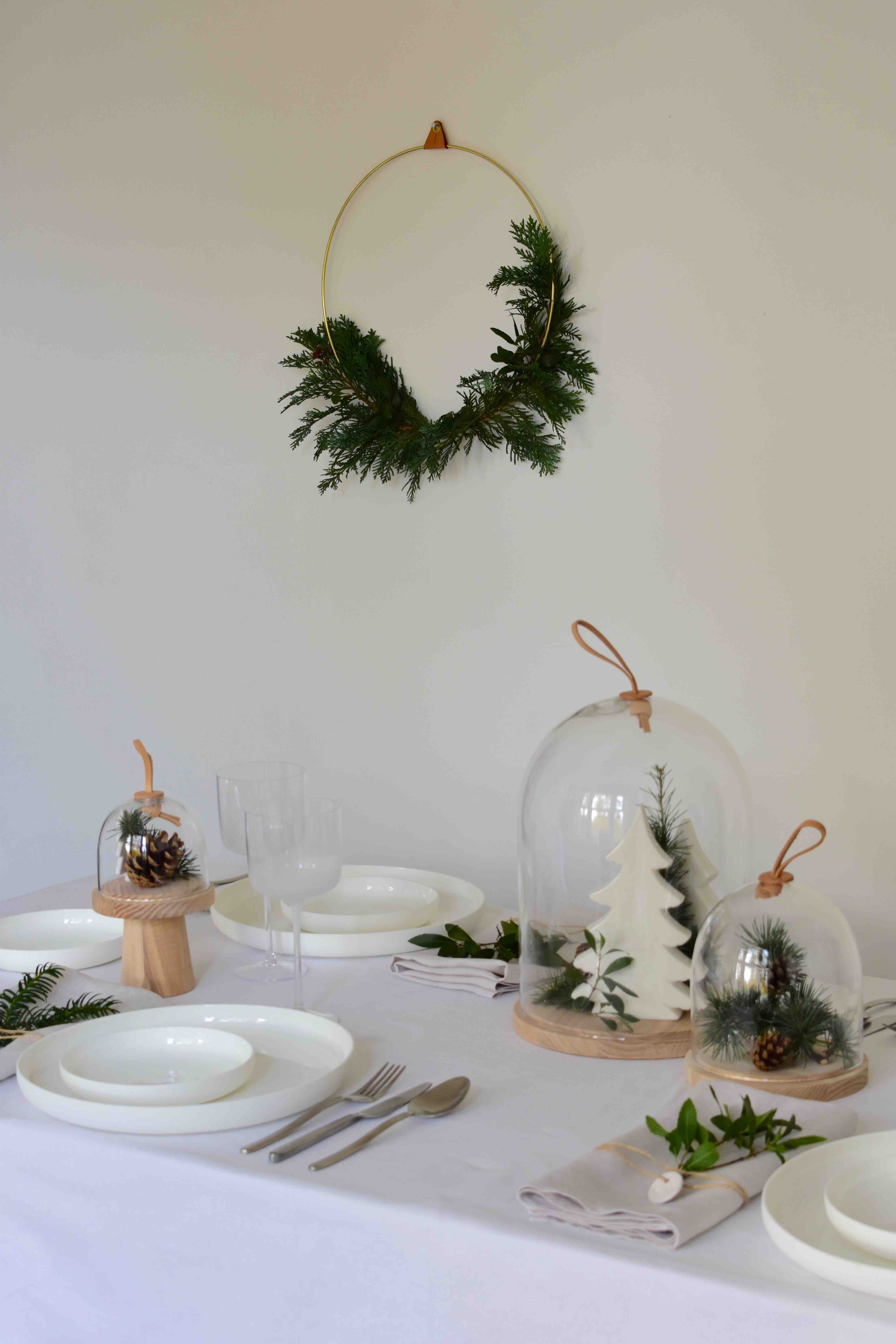 2. Layering & Height
Layering adds depth and interest through colour and patterns.
Ways to add layers & height can varied with tablecloths or runners, placemats, charger plates, glasses, velvet ribbons, foliage and flowers in bud vases, candles. Taper or cone candles, and tea lights work well together to accentuate the height between table and the tip of the tall candles.
All items should then balance in consideration to their composition to be pleasing on the eye.
Ways to add texture: moss; foliage; dried flowers; tying herbs or flowers to napkins; velvet ribbon tied to napkins; metallics, patterns and colours on linens; the type of glasses; tea light holders. A mix of antique and new can also add dimension.
Beyond the table, create ambience and interest with cushions, sheepskin rugs and candles on mantelpieces and side boards.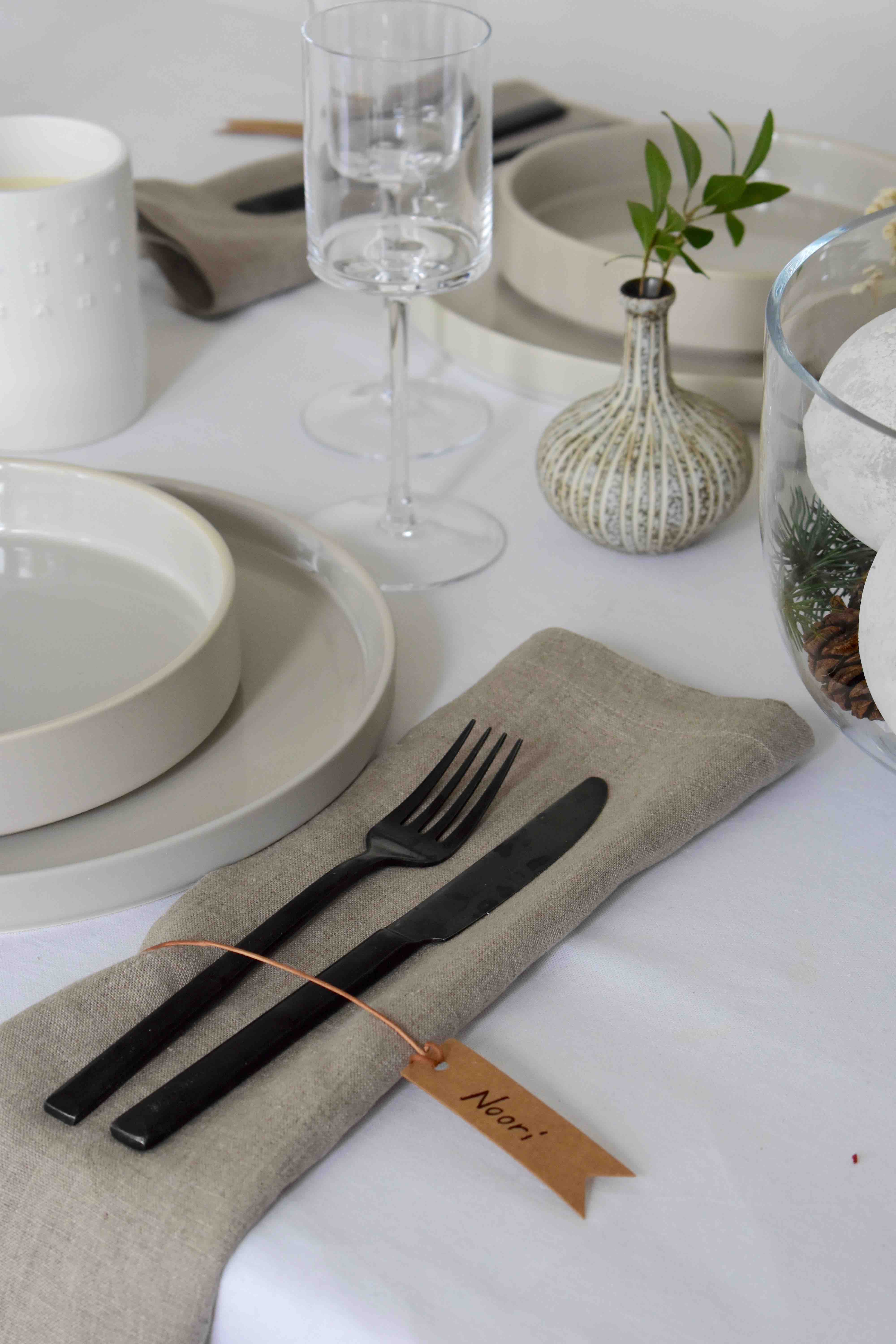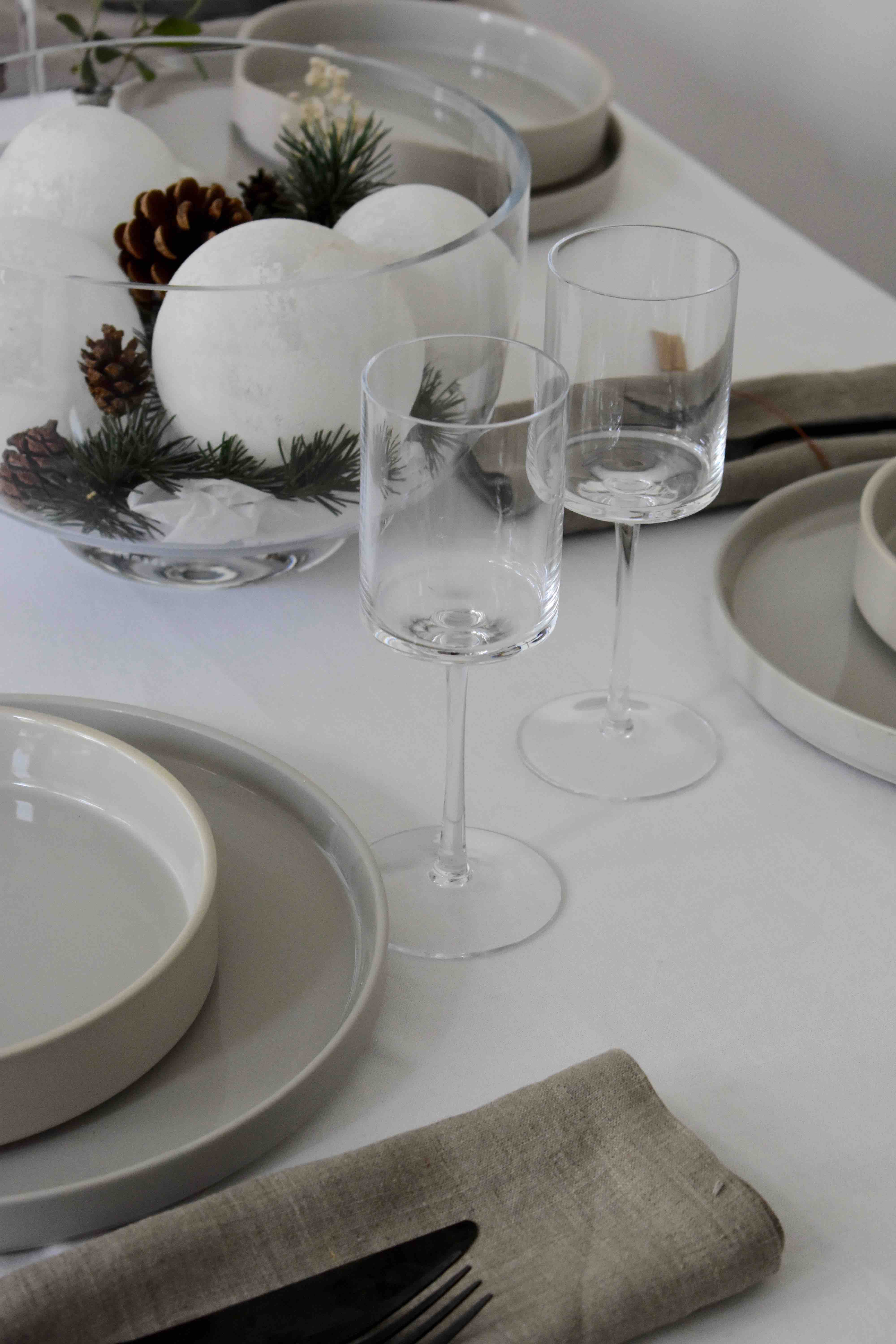 3. Centrepiece
Having a centrepiece is the perfect way to create a wow factor. There are no rules here, so you can go wild. Just like good room design, think about the focal point of your table.
You can use traditional long centre pieces with greeneries and foliage to add some fragrant natural elements.
Alternatively, you can display beautiful ornaments in pedestal bowl, or use moss, branches and candles for the ultimate intimate forest atmosphere.
I used these cake stands to display some pine cones, ornaments and greenery like small treasures.
Be creative and have fun this can make your table looks fantastic but be conscious of height to avoid preventing conversation.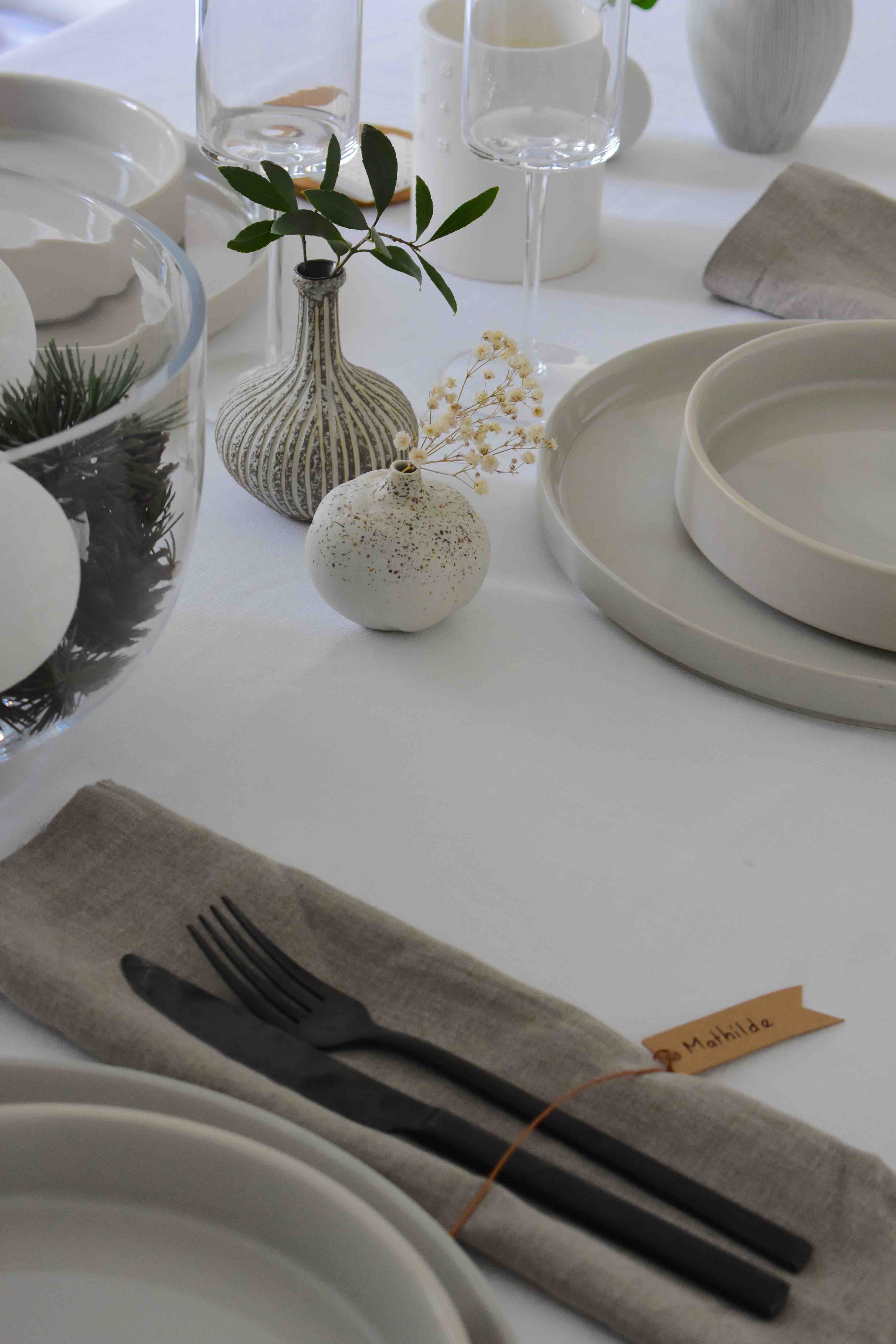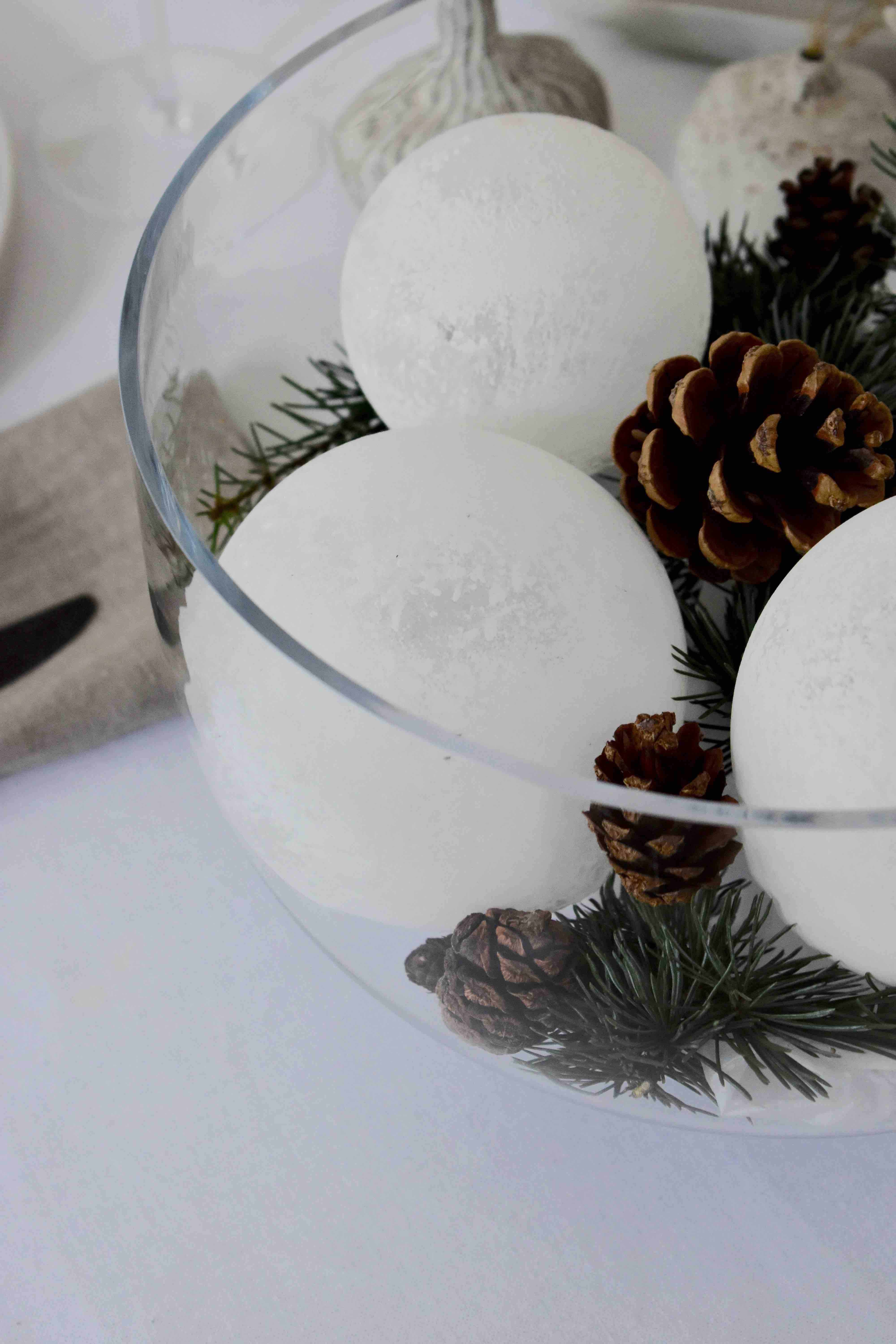 5. Hanging decoration
Suspended or hanging table centrepiece can be a very original idea and also a great trick if you have a small narrow table and need more space for your food display.
Using a large branch to suspend ornament, fairy lights or even paper decoration.
it's a clever alternative for creating impact in a smaller space, without the need for a Christmas tree.
6. Include the Children
Why not get the children involved? Could they bake and decorate some gingerbread men biscuits to present each guest as a favour or help with creating your own crackers…
To help you celebrate Christmas in style I have teamed up with LSA to offer you a chance to win a set of 6 Mist Glasses for your Christmas dinner party.
The giveaway closes on midnight Monday 25th November 2019. The winner will be announced on Tuesday 26th November on Instagram.