Spring Homeware Table Setting
To celebrate the late arrival of Spring, here in London, I had a small dinner party over the weekend with my latest design crushes!
I have carefully selected timeless and iconic products for a truly unique collection and my personal favourite! I am very excited to share with you these beautiful products which will last you a lifetime and can be used for different occasions.
Serax is one of this company that years after years has developed exquisite creation merging functionality and design. From the famous "Cactus Vase" to the trendy modern collaborations, Serax has grown into an authentic multi-faceted brand!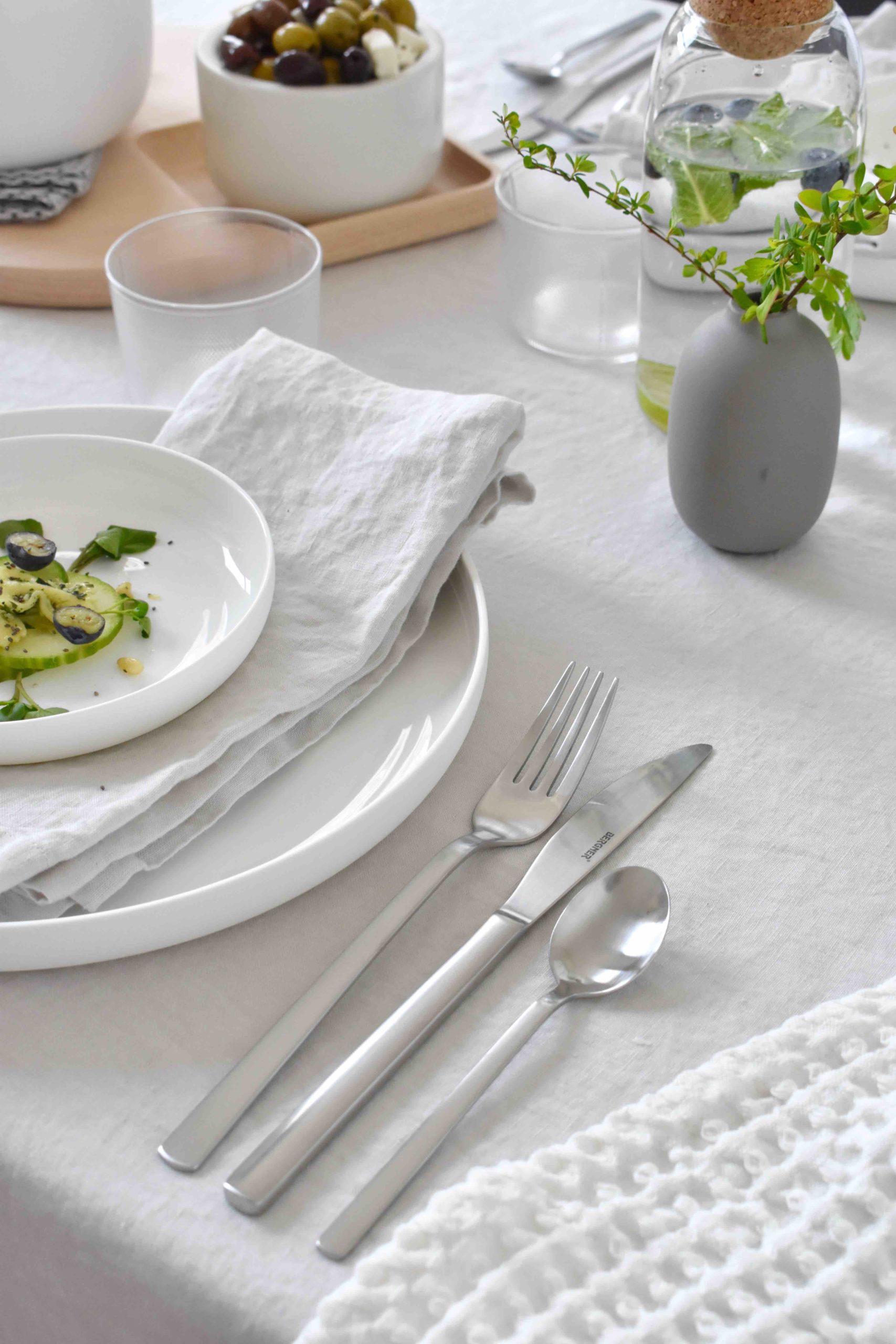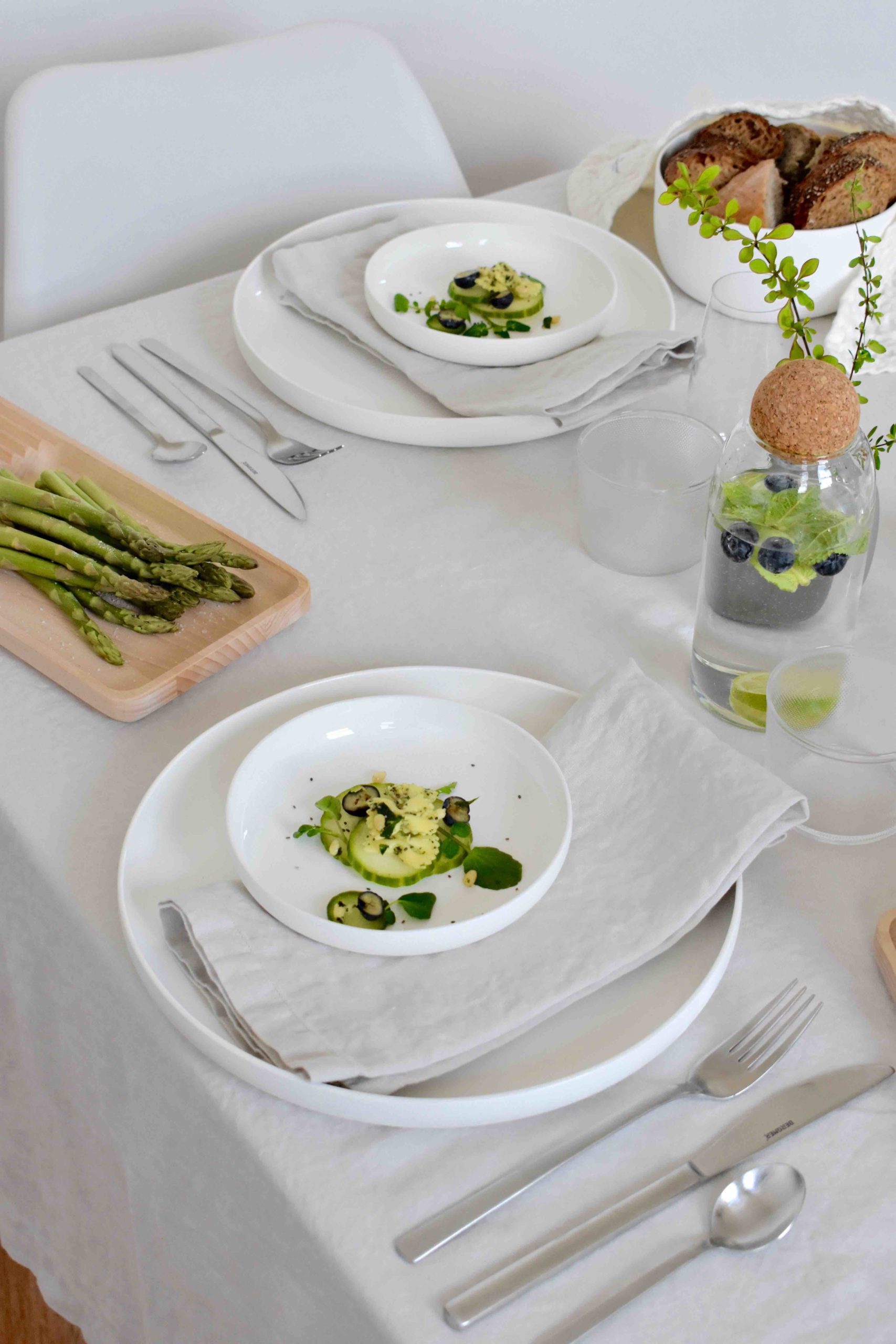 Serax is a family business where passion runs through the veins. Serax is the brainchild of SERge and AXel Van Den Bossche. Two brothers who were brought up amidst the flowerpot trade in their mother's business. Over the past thirty years, the small-scale business that started up in a garage in 1986 has grown into a multinational with over 65 employees and a head office in Antwerp.
For my perfect table, I have selected the refined plates collection by the talented Studio Piet Boon. A sophisticated complete range of high quality and minimal white porcelain deep plates which provides the perfect blank canvas for any dish. The range has a high thermal stability and is free of lead and cadmium. It is my highlight of 2018!
I layer a small high plate D16 for my cucumber starters on top of a large XL High plate D28 and used the medium High bowl for the salad. I also used the delicate Deep Medium bowl perfect as a bread basket.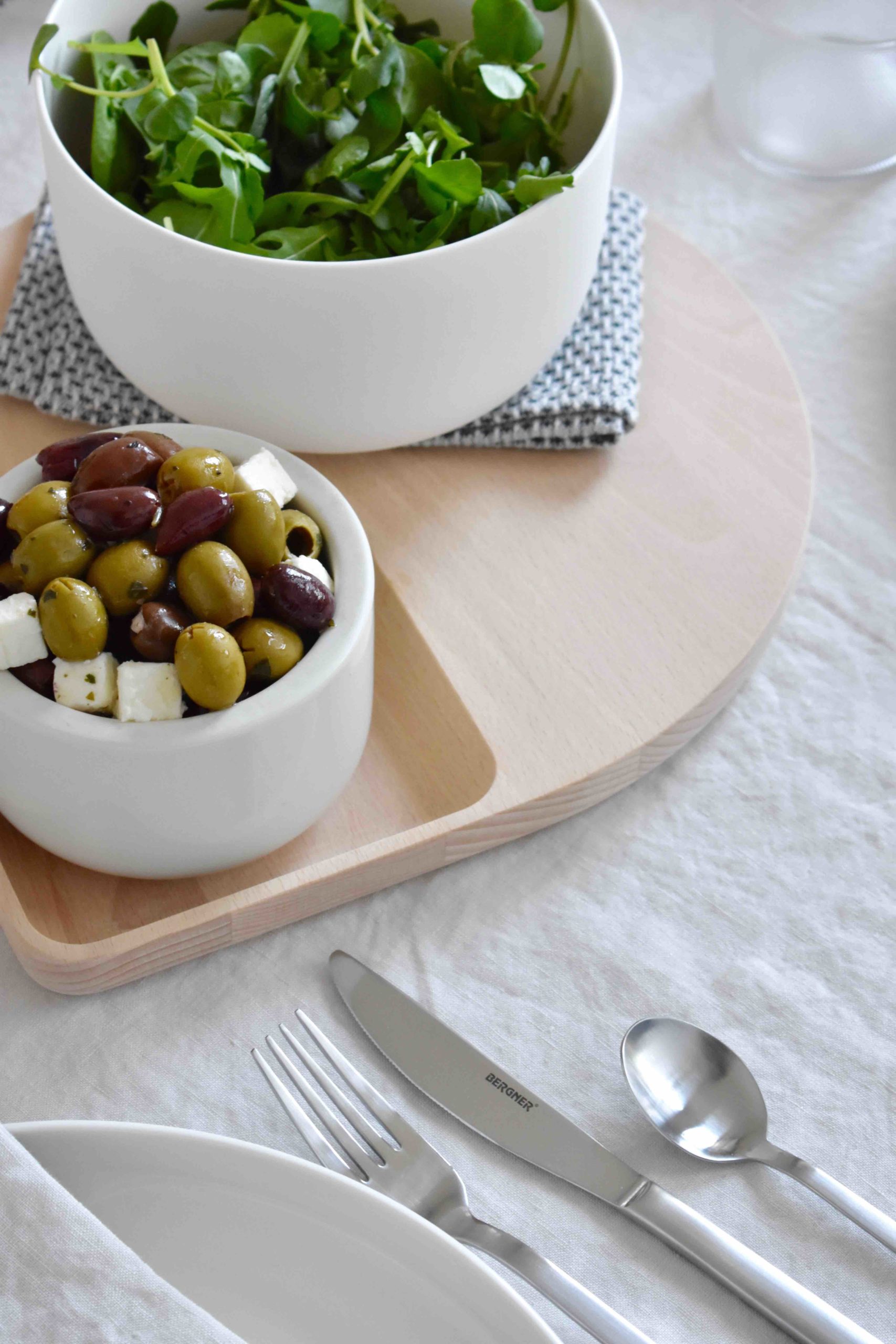 One of the most important steps, when preparing your dinner table, is to start with the perfect background. I love linen, it's a very long lasting environmentally-friendly classic fabric which will add depth to any tables. Linen Me is a London based textile company founded by Lithuanian-born interior designer Inga Lukauskiene. She offers luxurious natural linen for your home.
Her vision is to help individuals to slow down from their busy lifestyle and come home to enjoy the smaller things in life and to relax in comfort. "Your home is your sanctuary, and we want to make it feel cozier and look even better".
I meticulously choose the Silver linen tablecloth stone washed with matching napkins, a refreshing light colour for this Spring! Oh and bonus her high-end products are affordable.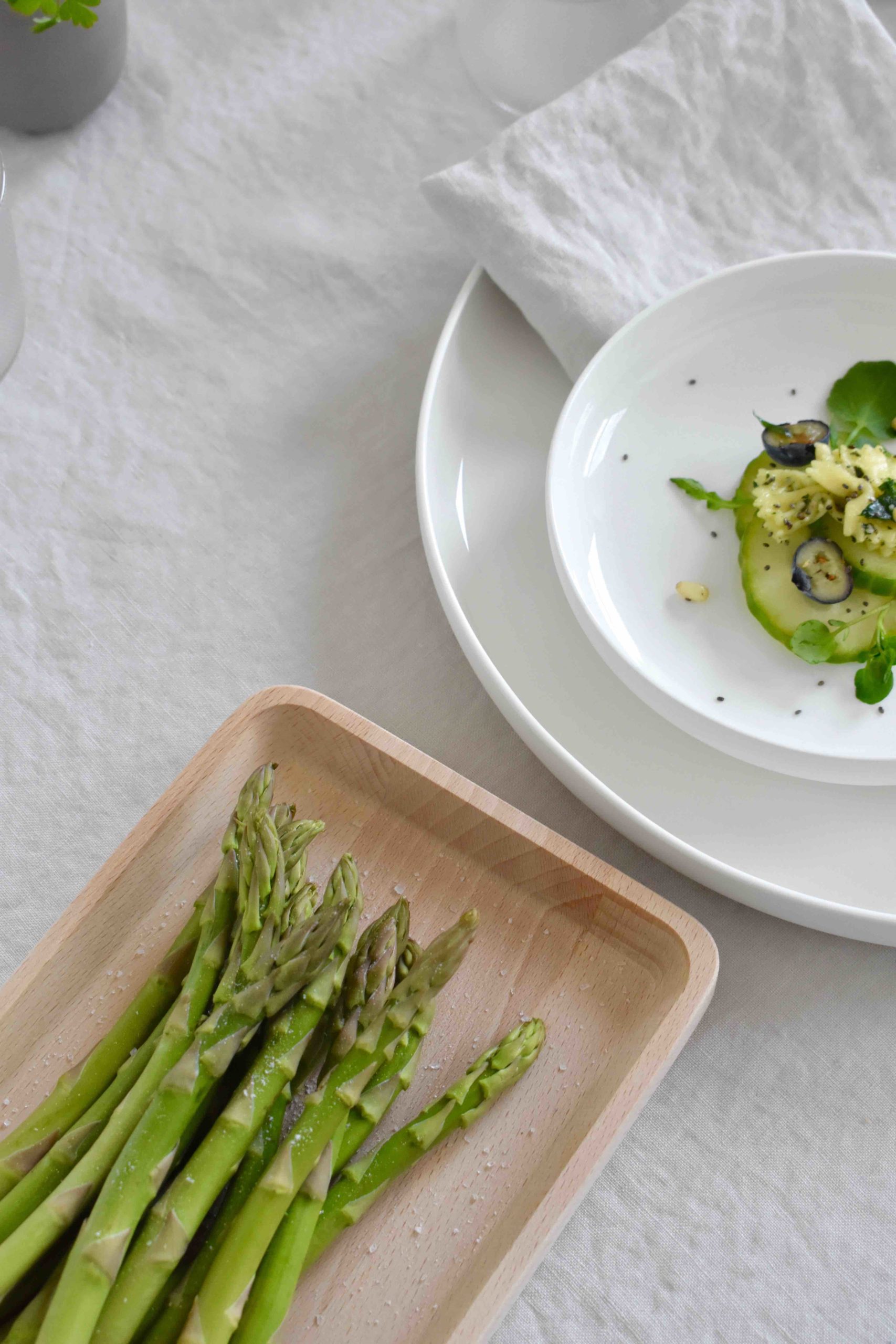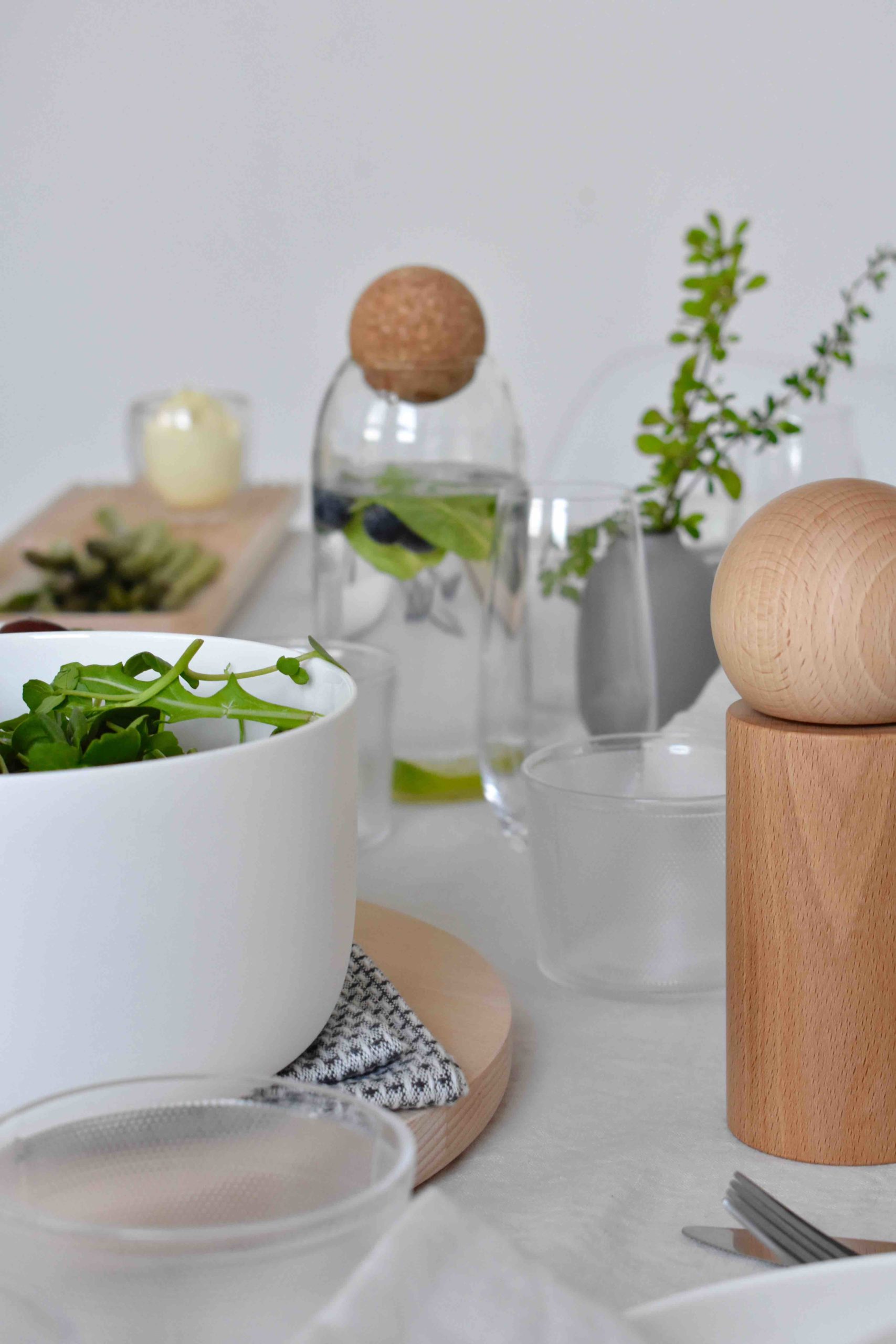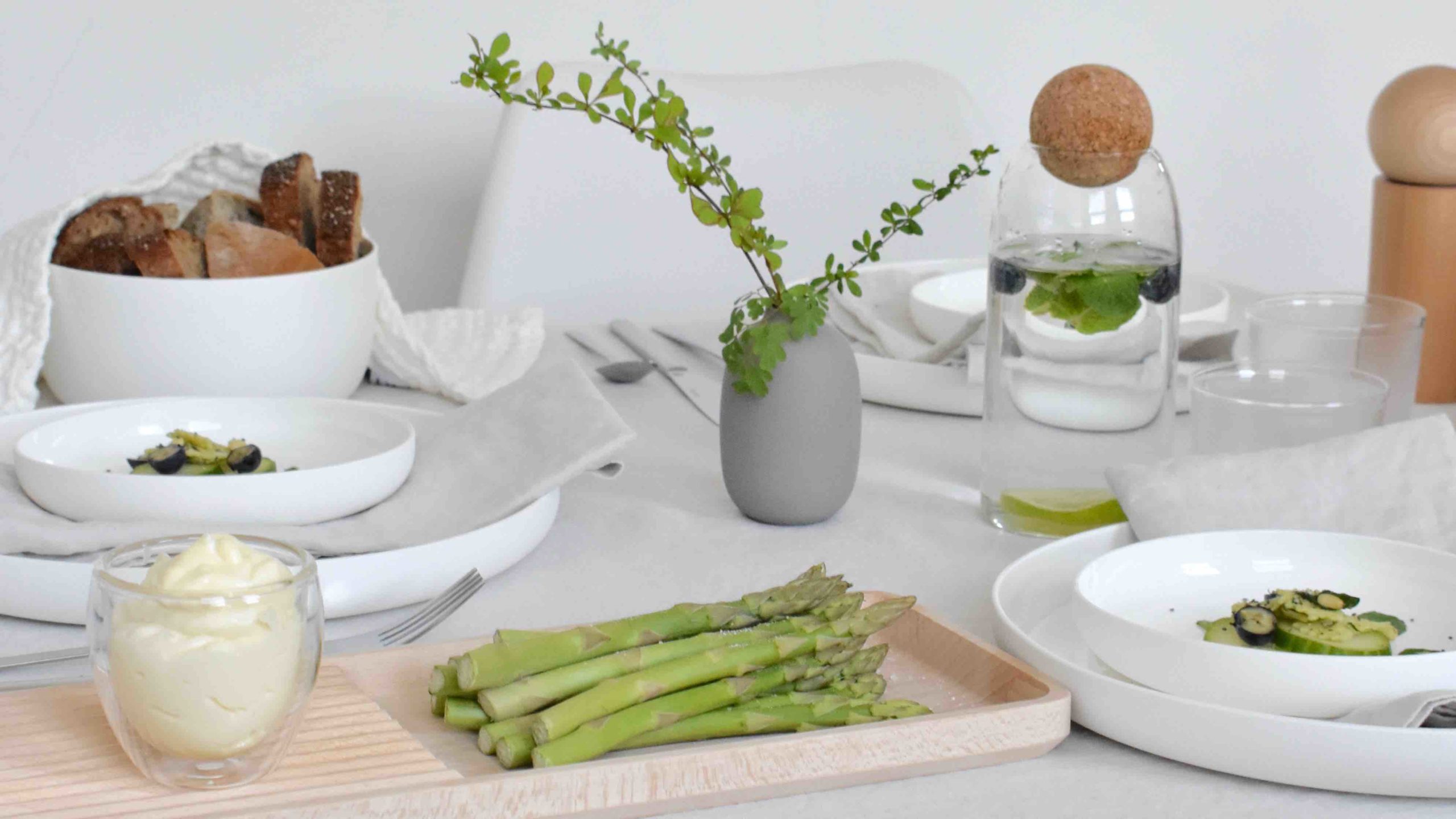 I love Chopping boards, they have multiples purposes, they can be used as chopping boards, serving platters, trays, trivet and can even be designer pieces.
Last month Case Furniture released 4 new stunning very versatile and functional serving and display boards designed by Gareth Neal.
Gareth is also a London based designer, he believes that Good design emanates from a depth of knowledge of the medium, and his ability to reconsider it for a contemporary audience.
I used the geometric Plough Serving Board for my asparagus and the Petal Chopping Board as an elegant circular serving tray. They Both made from oil-treated beech for easy maintenance and provide a highly functional addition to any domestic setting.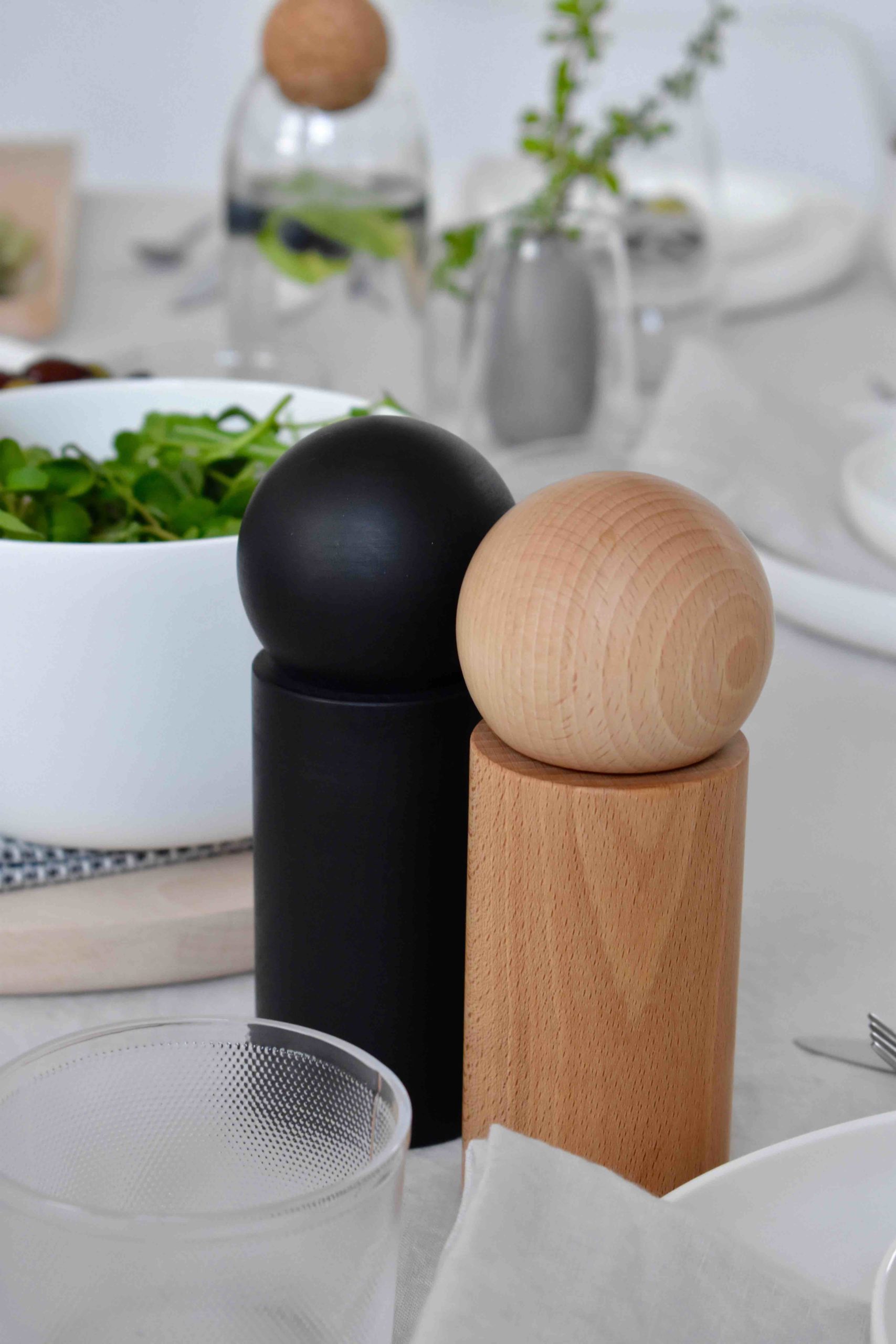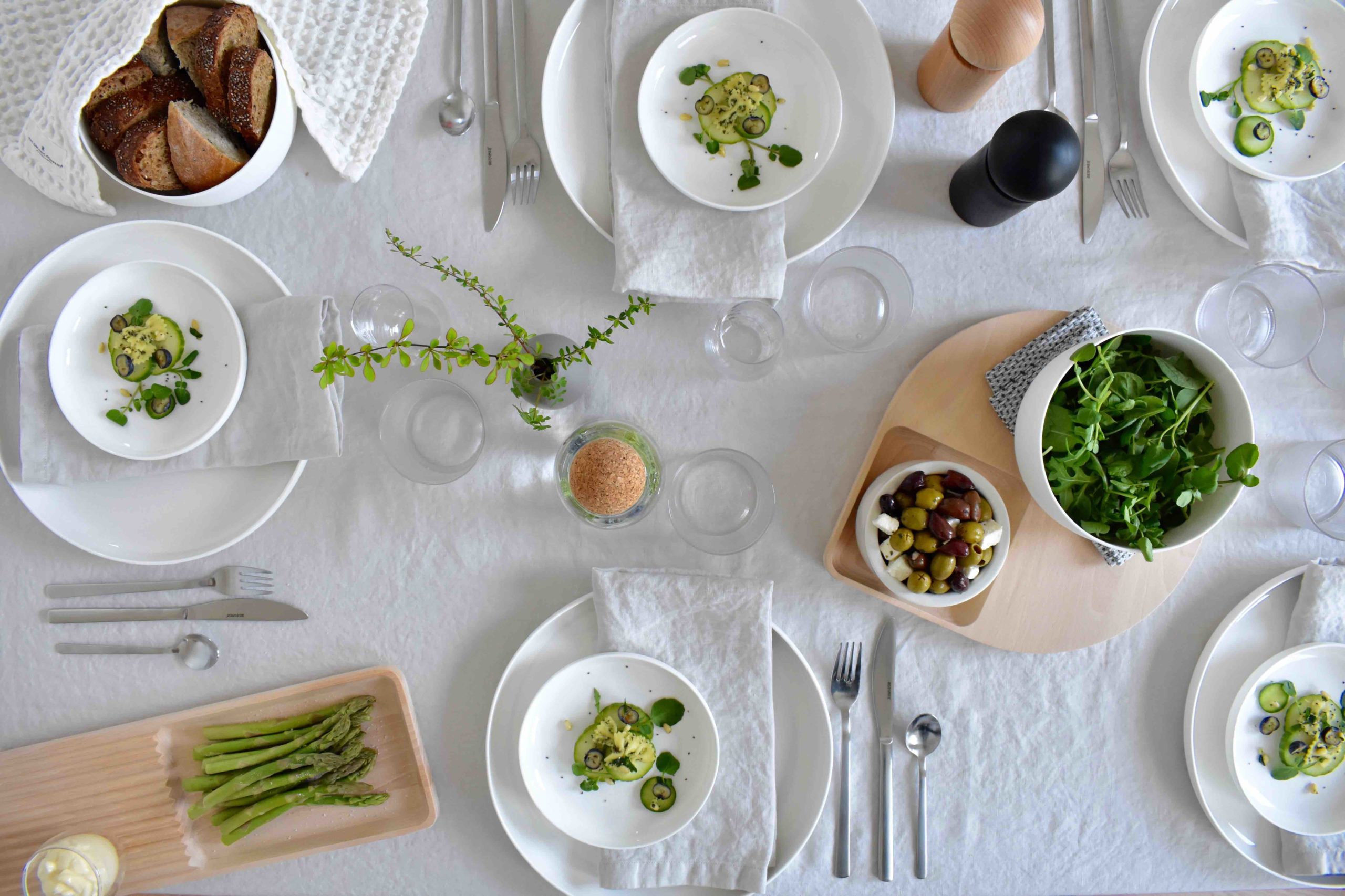 The Orb Grinders add an emblematic element to the table. This salt and pepper mill are crafted from solid beech and features an adjustable ceramic CrushGrind mechanism.
Textured blown and moulded drinking glasses designed by Merci for Serax and the Luno Glass Jar by Anima Contemporanea.
I hope you enjoyed this table, we had a lovely dinner and it was so great to share my favourite designers with y friends and now you!
Disclaimer; this is not a paid post. Some products were gifted items, all that I would highly recommend. 
Photography © Mathilde Kubisiak/MK Design London