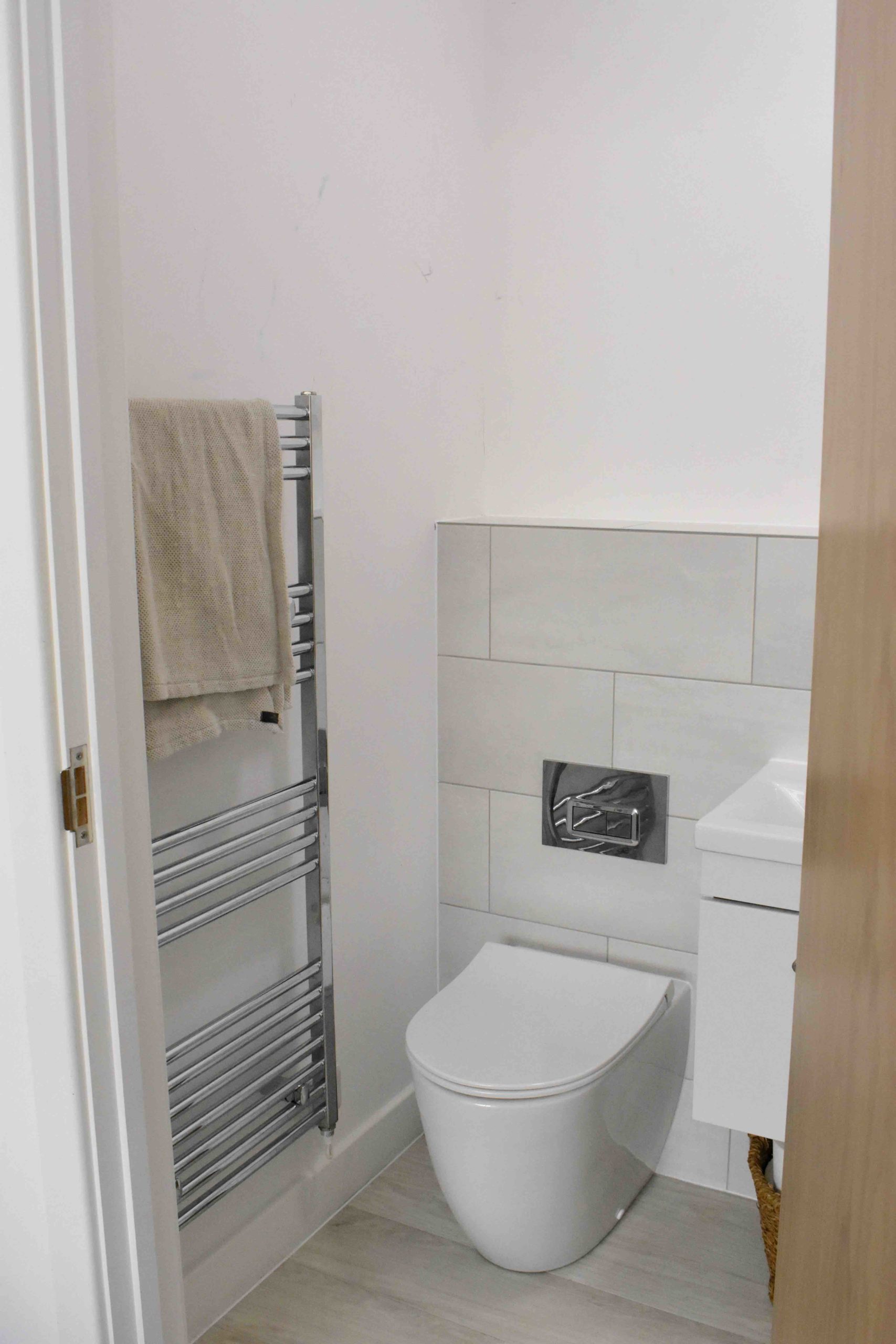 I remember when I first visited our new flat and I thought who needs two bathrooms, especially one like our tiny ensuite in our bedroom. It is a small shower room with one toilet and a small sink. 
I feel storage solution is always lacking in new builds and I initially wanted to turn this space into a compact walking wardrobe.
However, we moved into this flat over a year ago now and I have to admit the use of a second shower room has been extremely useful!
The boys are mainly using the master bathroom which is full of toys and I am enjoying this tiny sanctuary as my personal space to retreat and pamper.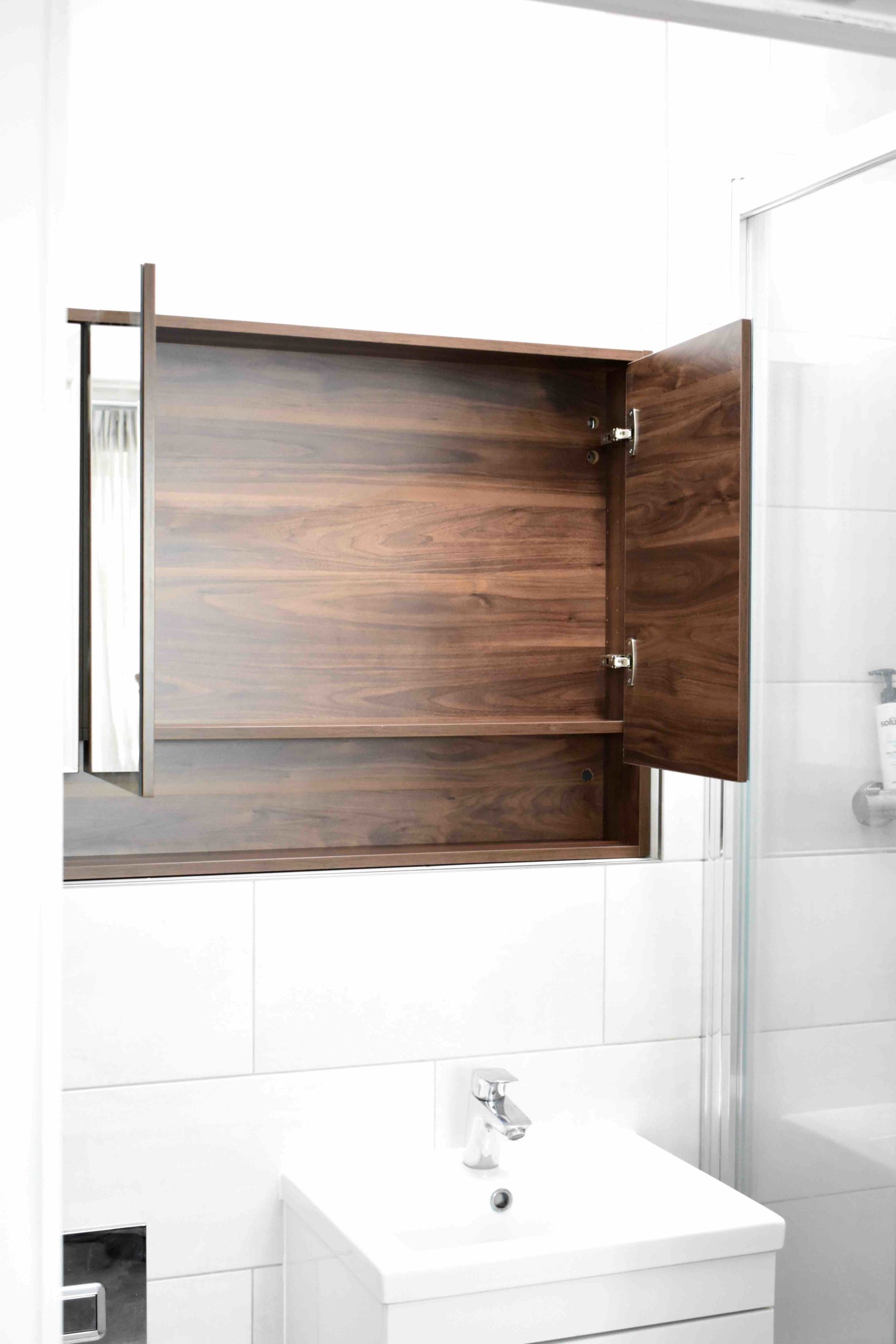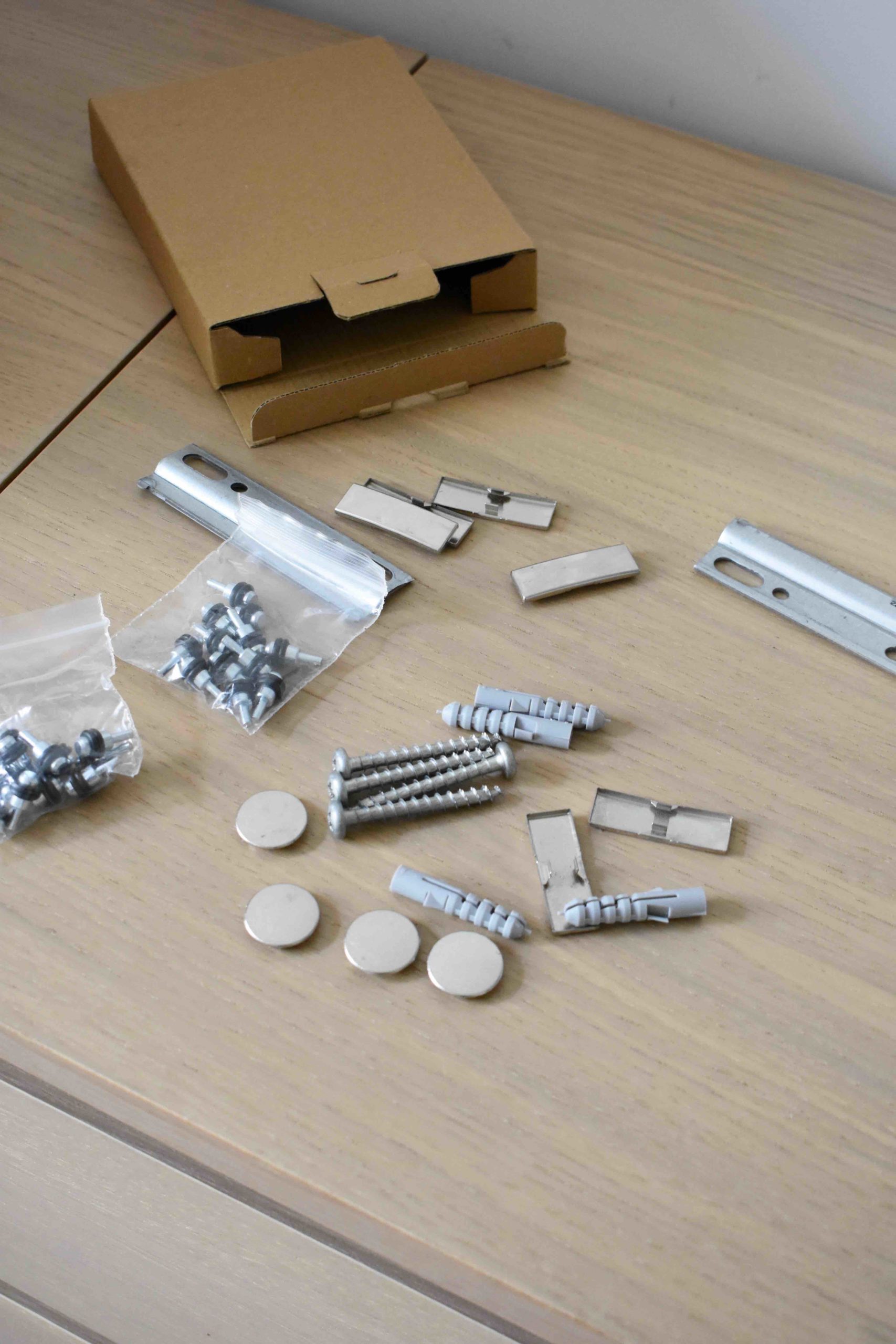 Nonetheless, this mini bathroom needed a few upgrades to become the practical and beautiful powder room I wanted.
The first and most important step was to add smart storage that also offers a lighting solution and a mirror above the sink. This Integra unit from VitrA is everything I was looking for and more. It instantly lifted the space to a sophisticated modern look.
Its size is a generous 1200mm wide which fits perfectly in the niche above the sink and allows maximum storage capacity.
It is also the only unit I could find in this size with a beautiful walnut finish which gives an elegant & minimal look while being very durable.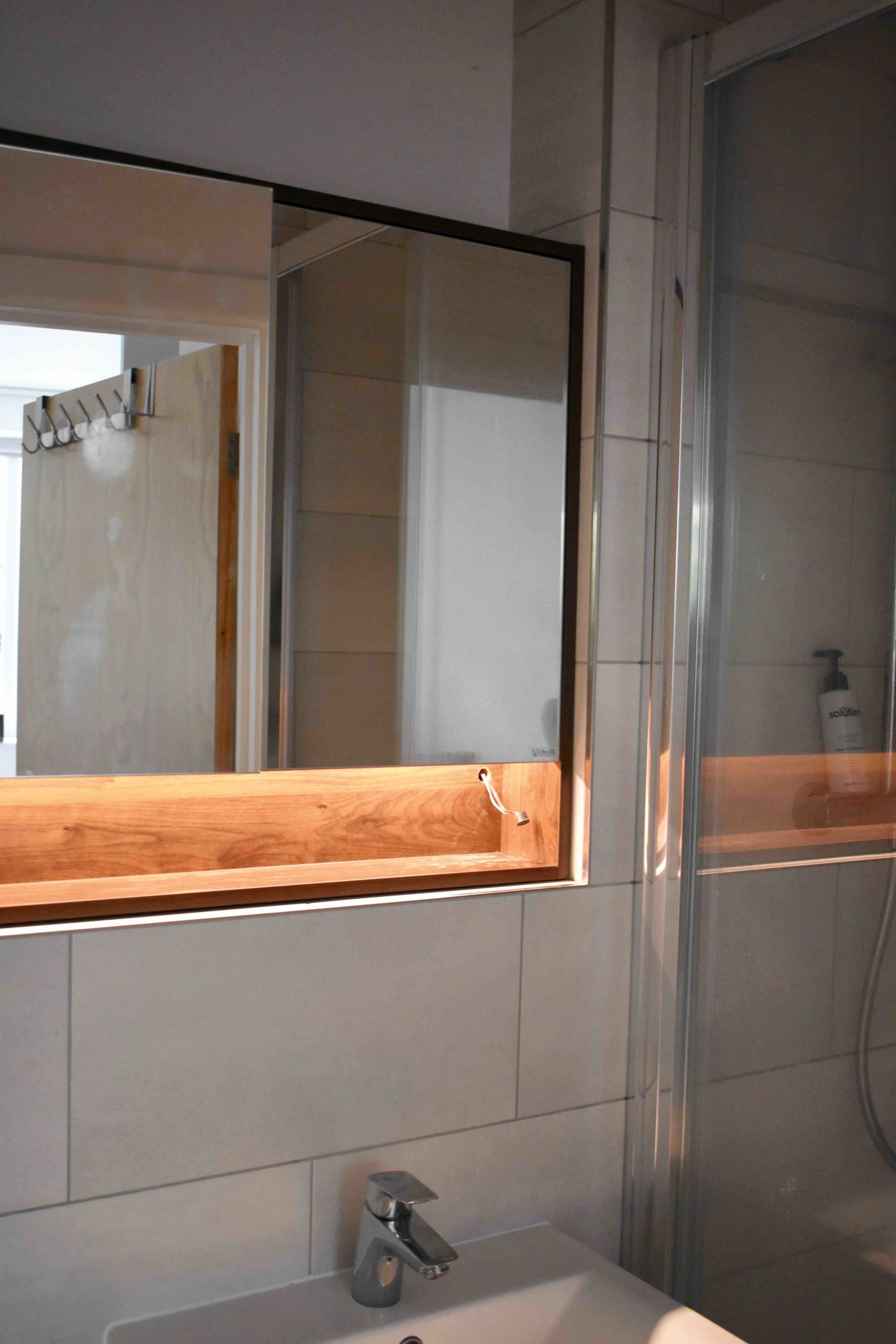 We originally had a "shaver only" socket that only allows 115 voltage on the right inside of the alcove. We never used it but, conveniently this grants us direct access to electrical wires which we use to connect the VitrA unit lighting circuit. It was very easy to connect by simply matching colour cables together and hiding the wire behind the unit.
Because of its position, I also had to move the cessor switch which was originally under the cabinet. 
I used a flat wood drill bit to cut a circle inside the bottom shelf and fed the switch from the back. I then secured it with dark brown silicone.
This extra lighting adds a beautiful glow to the space and a very helpful subtle light perfect setting the mood or night visibility.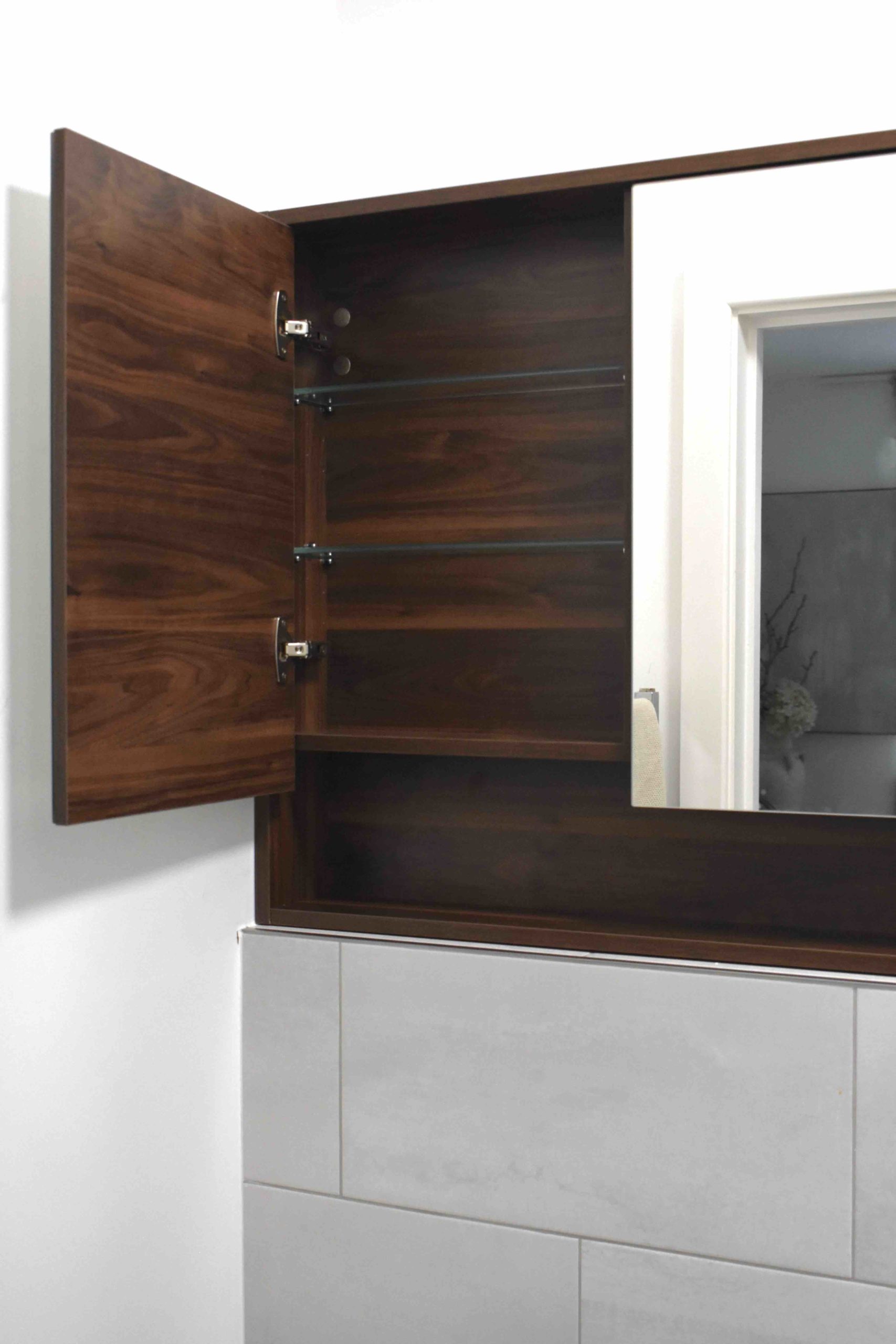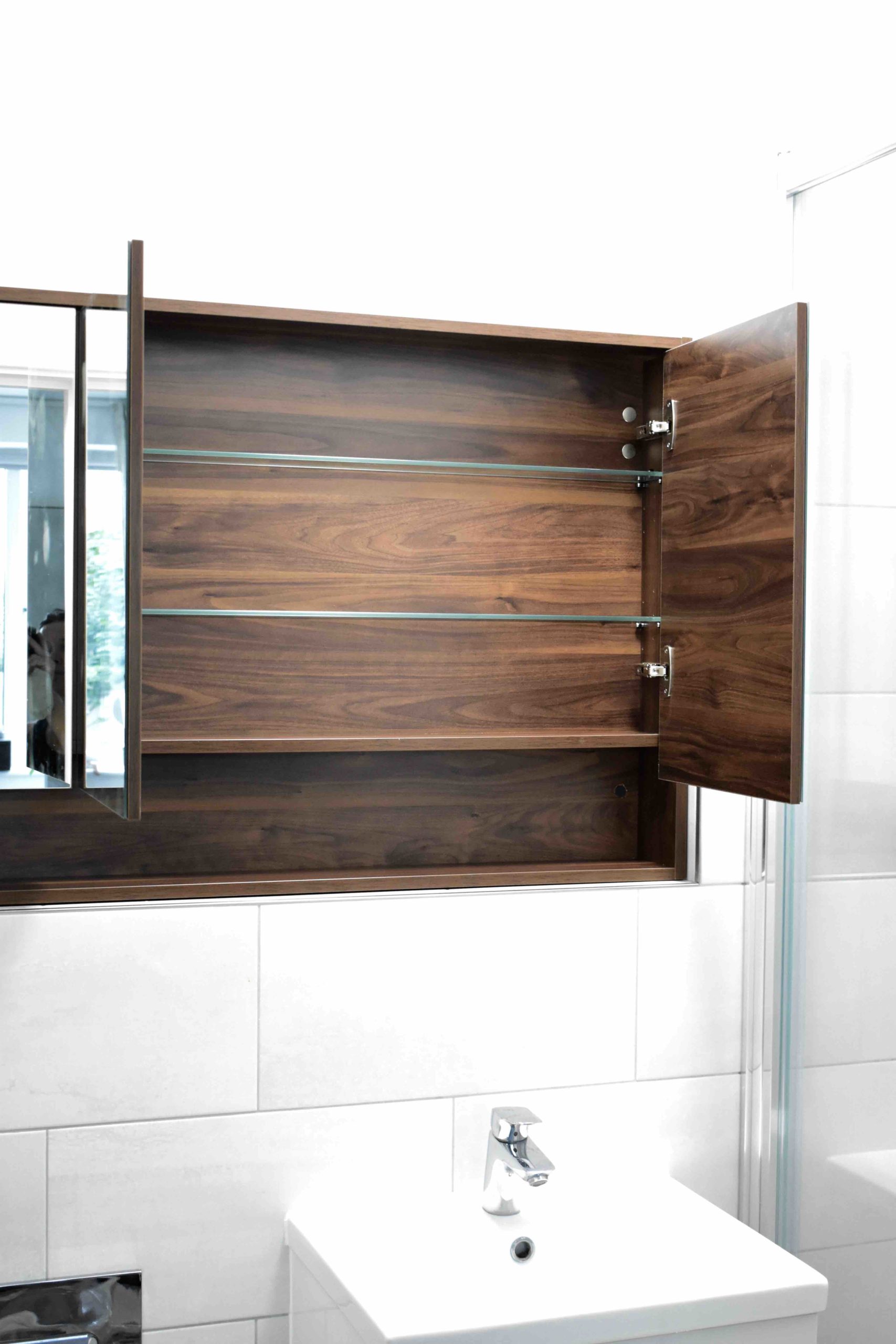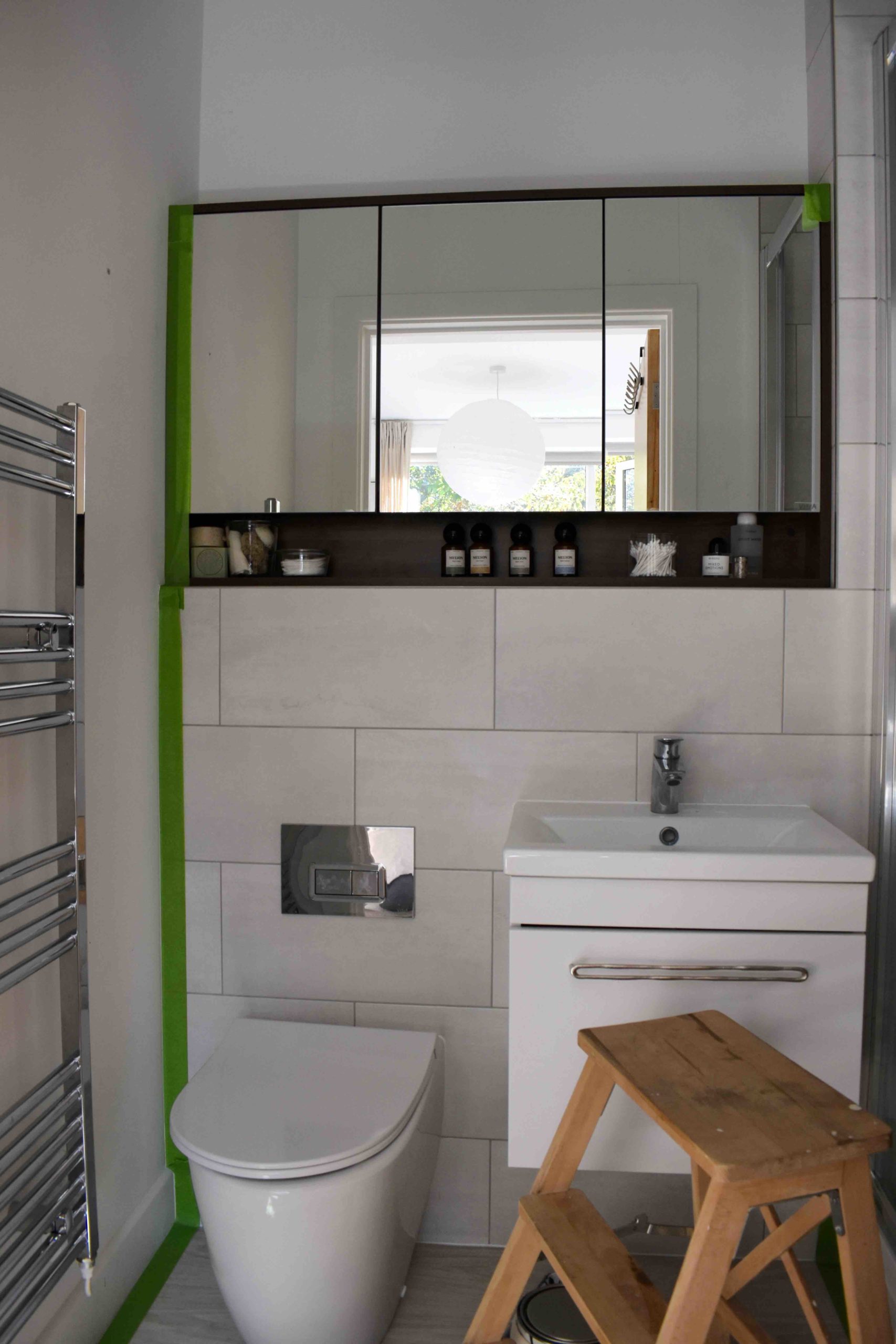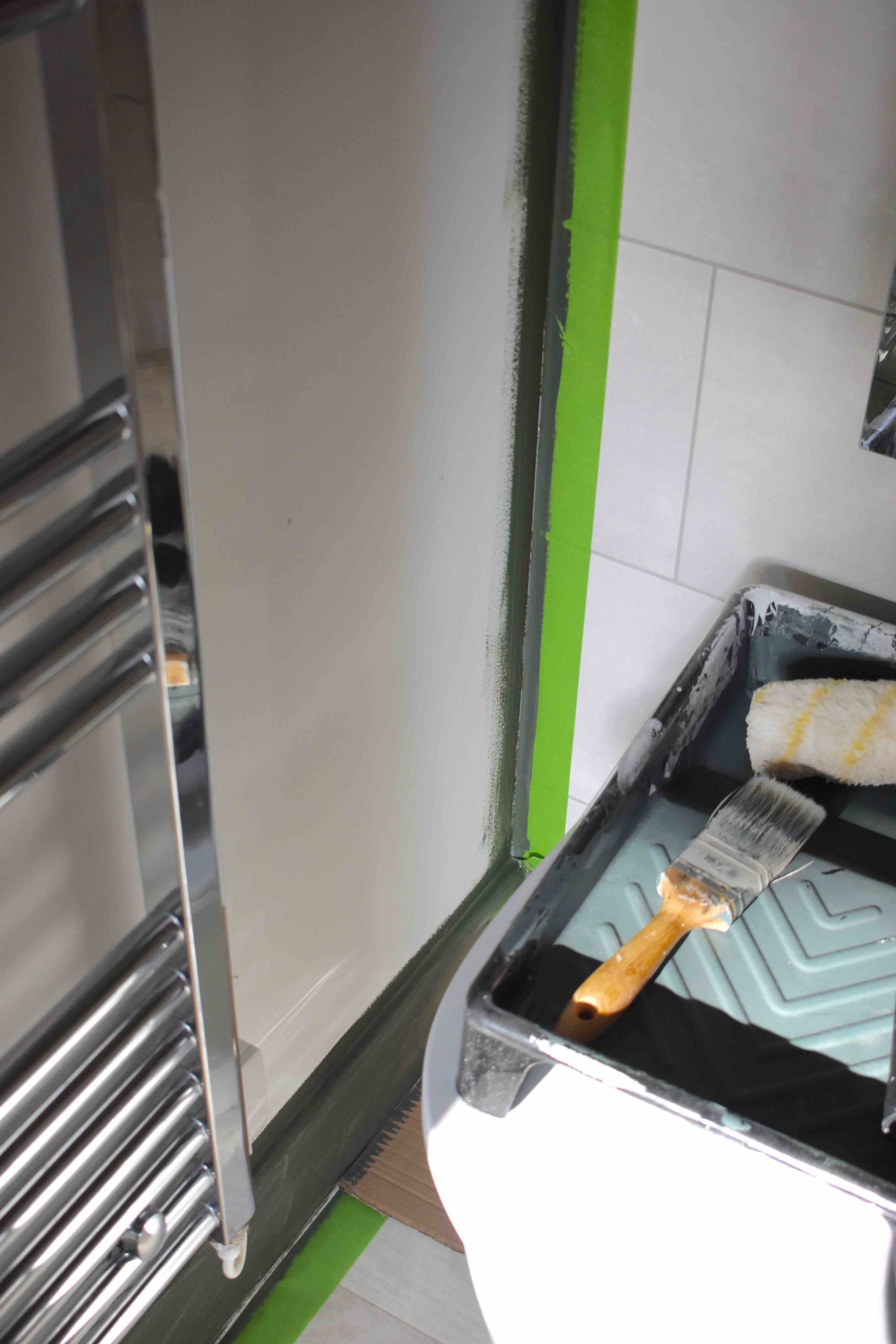 As most new-built, this space lacked personality and soul and I decided to make a bold choice by painting it one of my favourite colours from Coat the Nomad green, which is a rich olive green with a grey depth making it a statement colour while staying unique and timeless.
I went through a lot of green samples, trying to find the perfect hue and this one is the best. The pigmented colour change slightly during the day and the lighting. I always recommend testing the colours you want first for a few days and checking them at different times of the day. The orientation of the room will also dramatically impact its shade.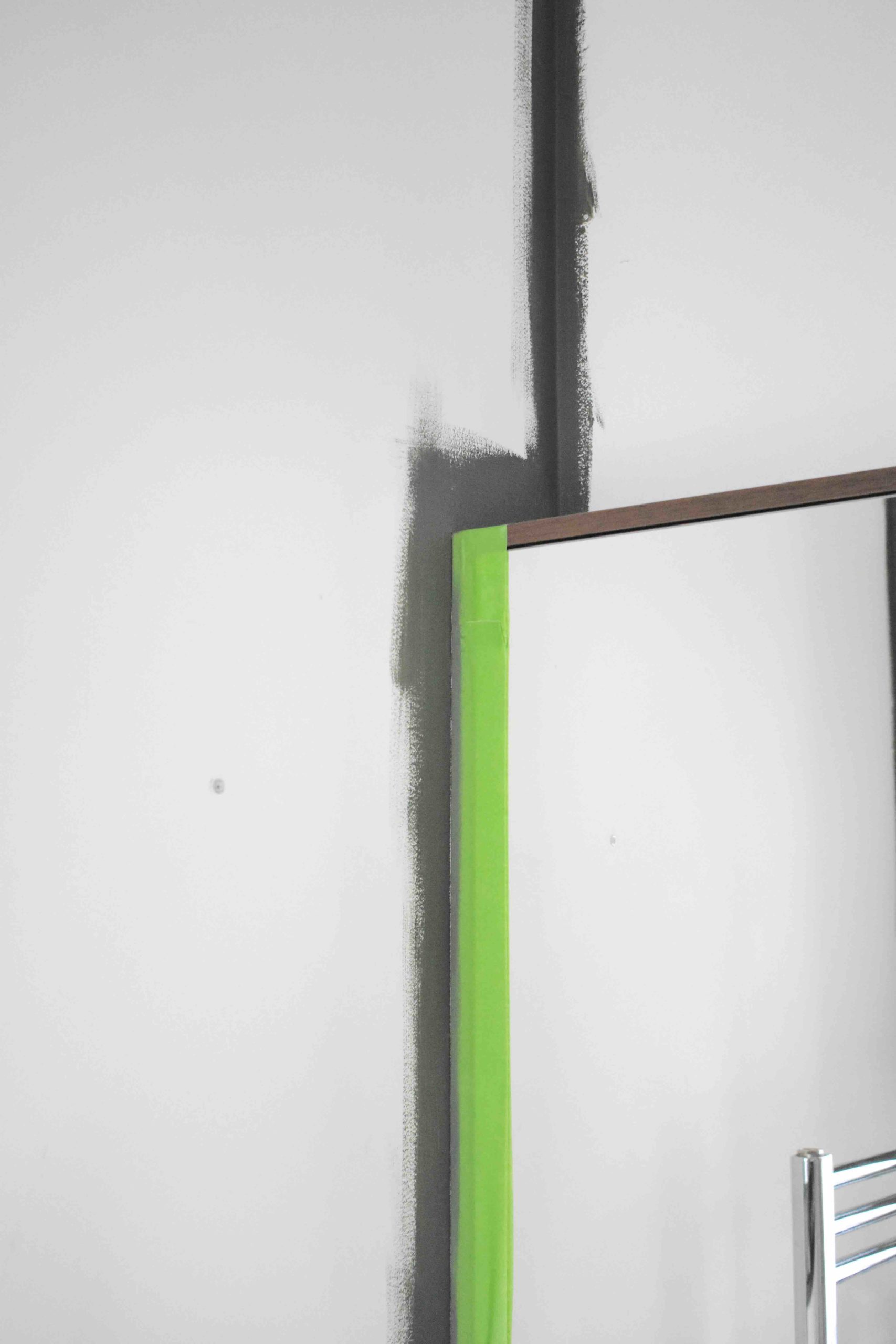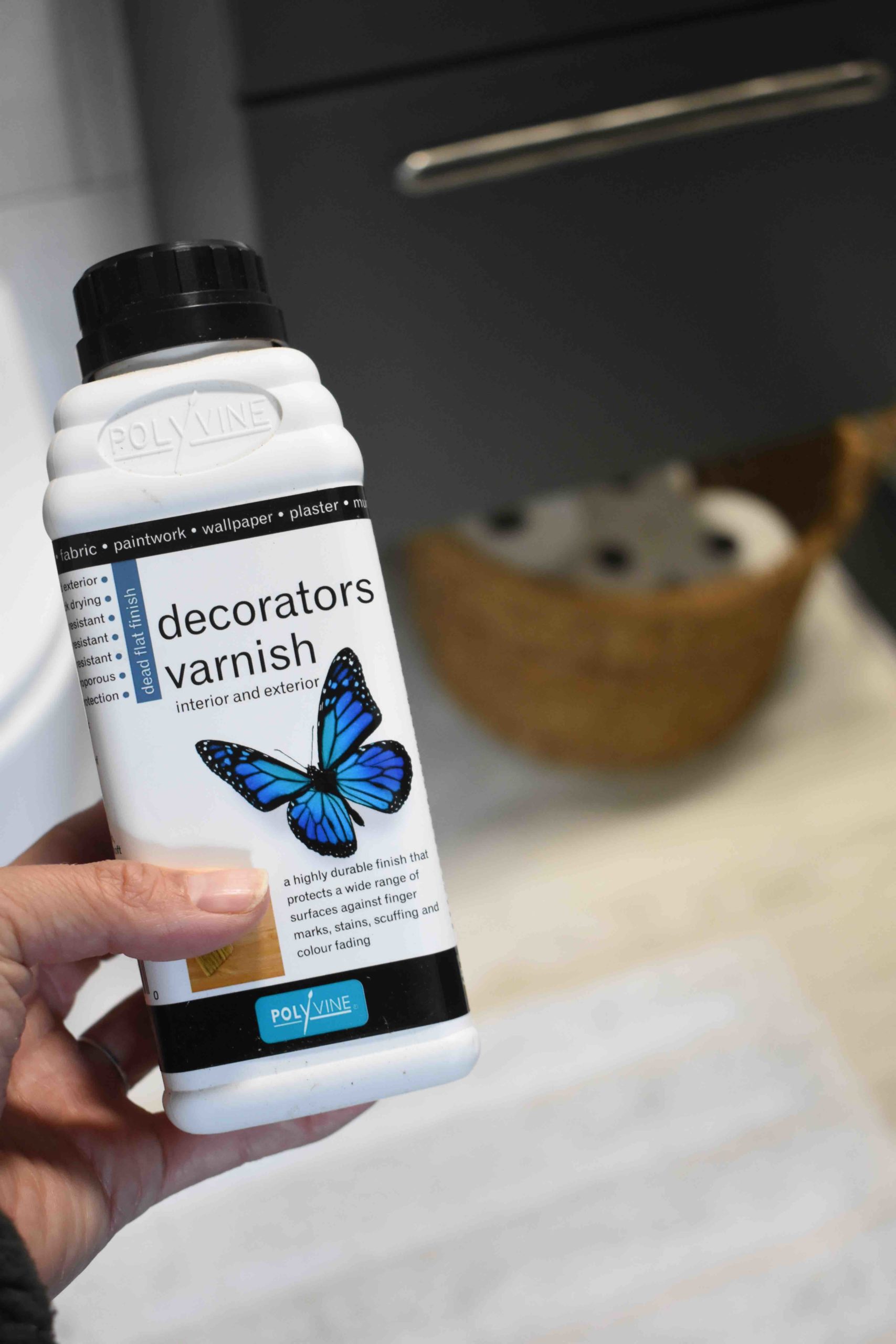 I made the decision of painting both the shirting, the wooden door frame as well as the ceiling in the same colour. Especially in such a small space, it is important to minimise the different colours and visual lines. This gives a contemporary appearance and an illusion of more space.
To create some repetition and unity, I also painted the sink floating unit with the same paint colour and applied 2 coats of decorators varnish to make sure it will stay protected.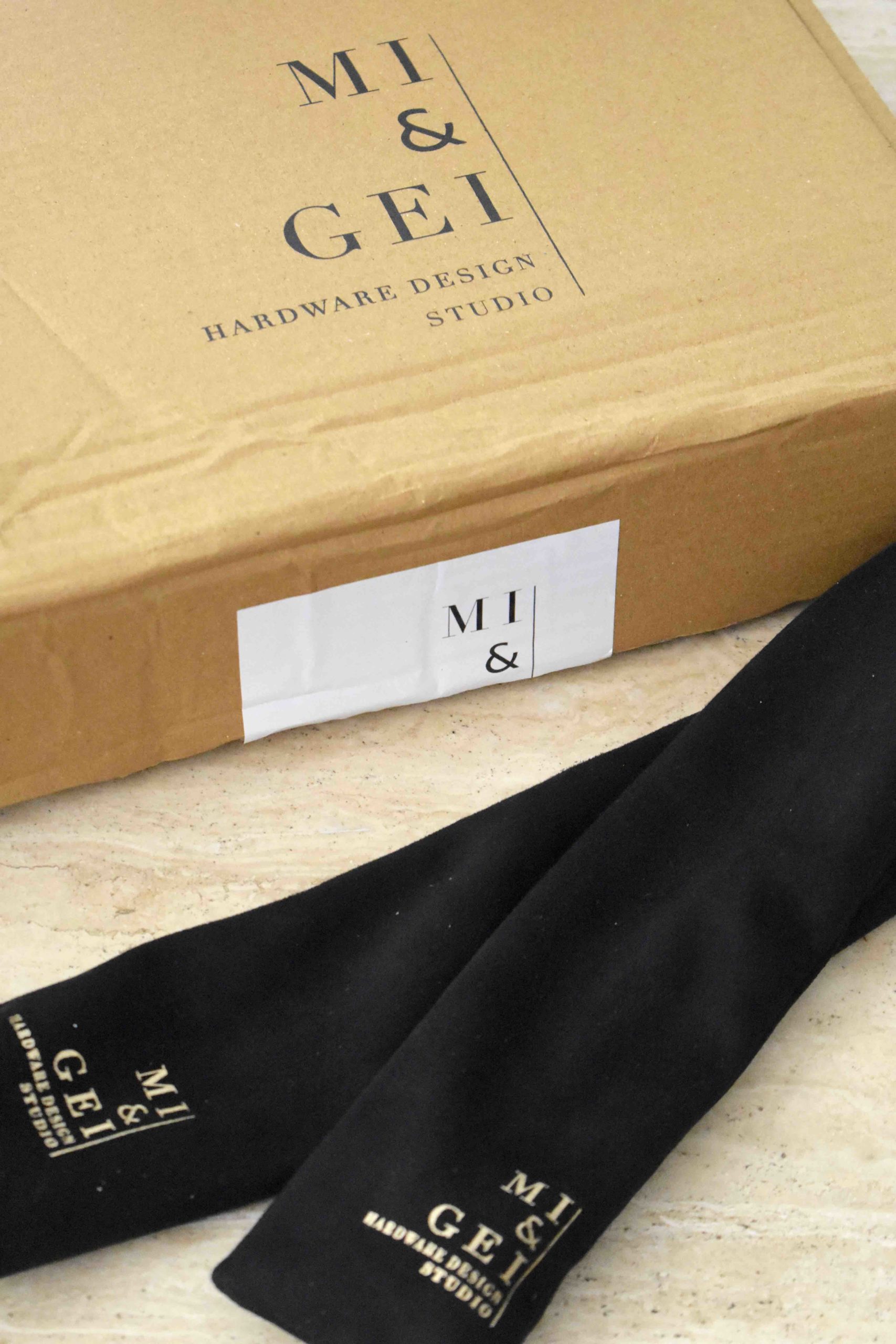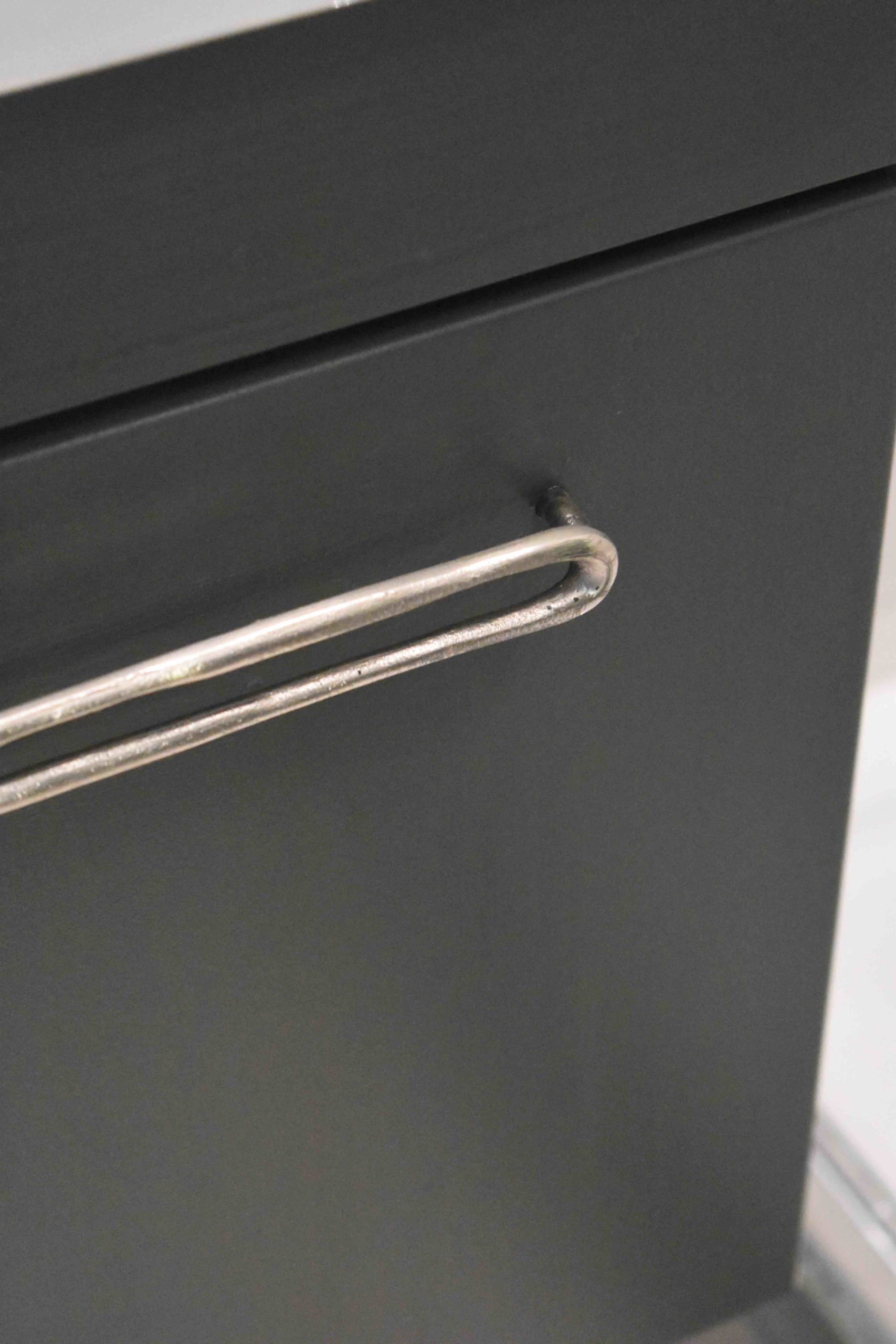 I finally updated the hardware with a luxurious handmade Mi & Gei pull handle in satin nickel finish. This elegant 330mm solid cabinet pull fit the size of the cabinet perfectly. 
I am so in love with these iconic handles, they are like pieces of jewellery and add so much character to the space. Each piece is handmade, recycled & recyclable! They come in Natural brass, bronze, carbon black and satin Nickel.
Check out the incredible Mi & Gei collection, as all of their products are truly amazing!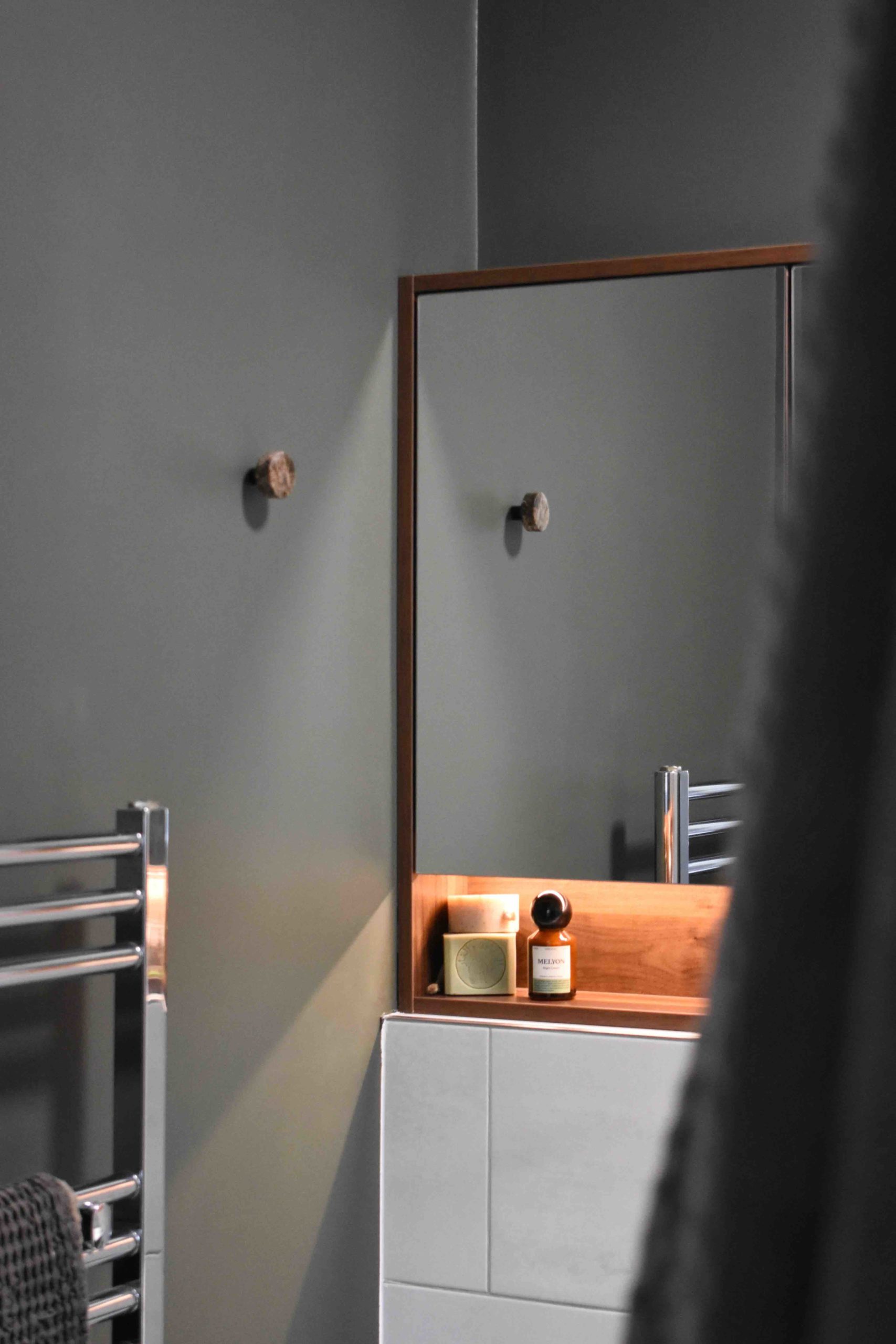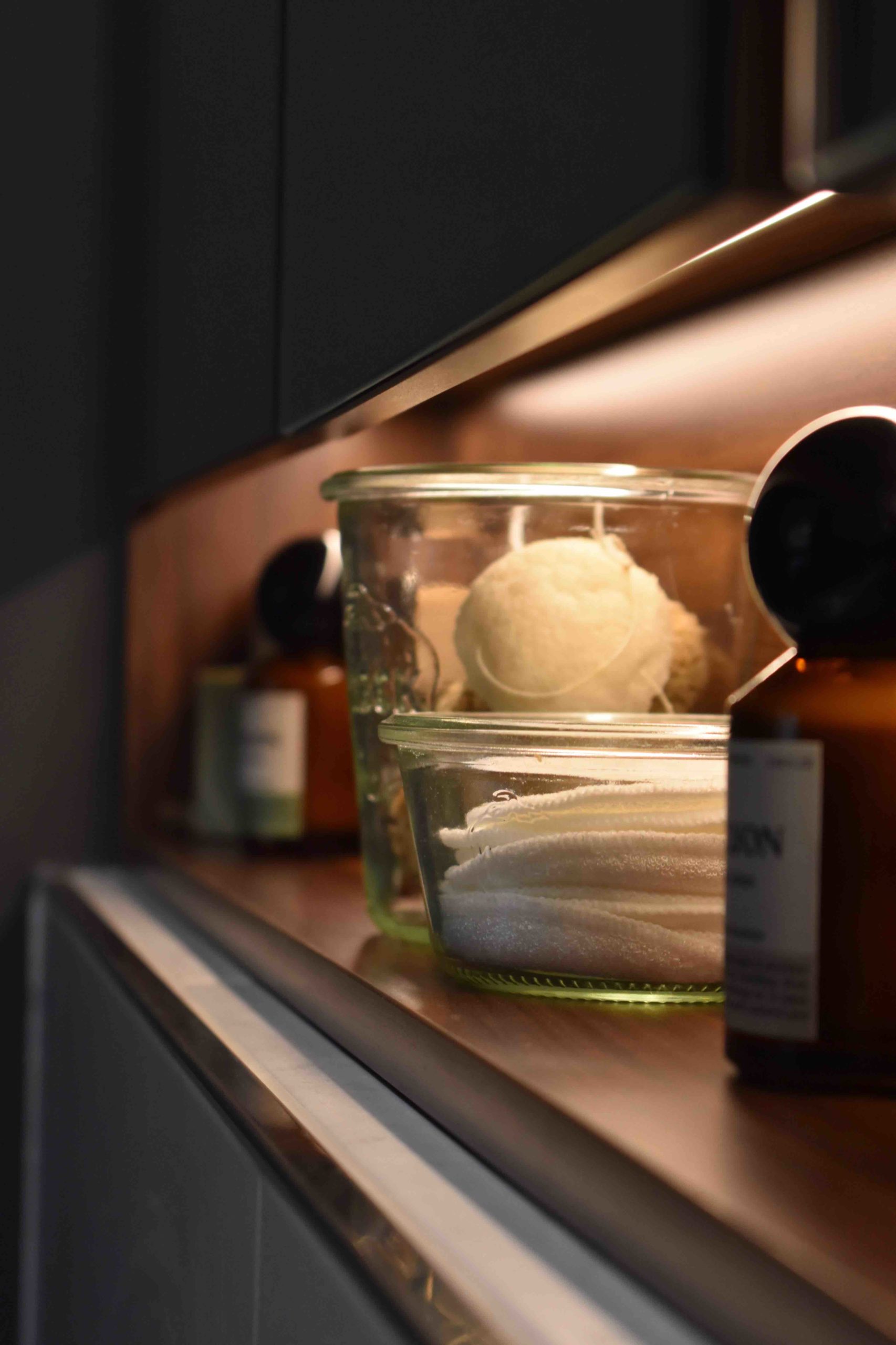 The result is a cosy stylish powder room I really enjoy every day. What do you think? I would love to hear from you in the comment box below.
If like me, you are attracted to darker colours but prefer calming neutral in general, you can paint a smaller room like your toilet or bathroom and create a statement piece like this one. I always recommend choosing highly pigmented paint for a timeless hue.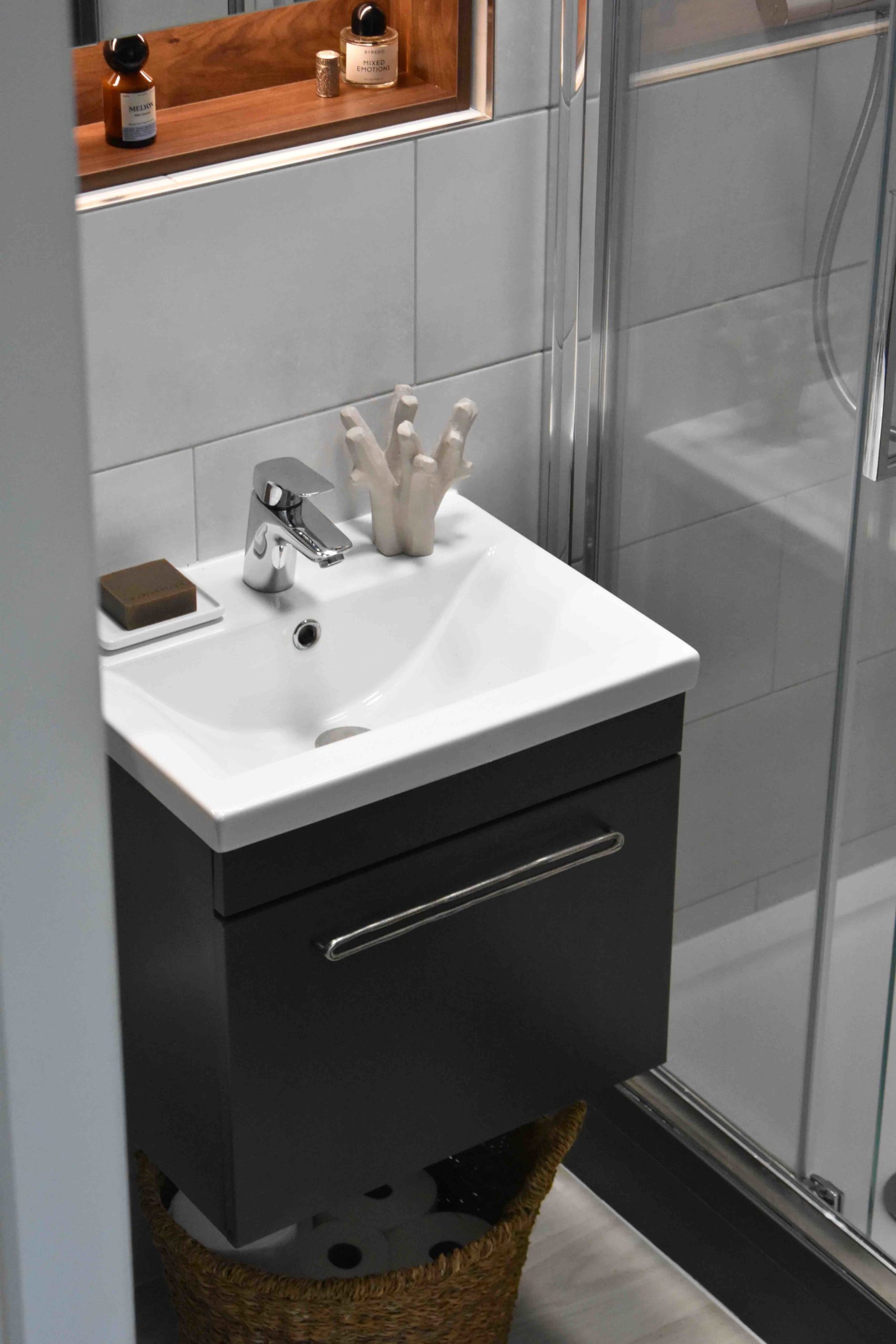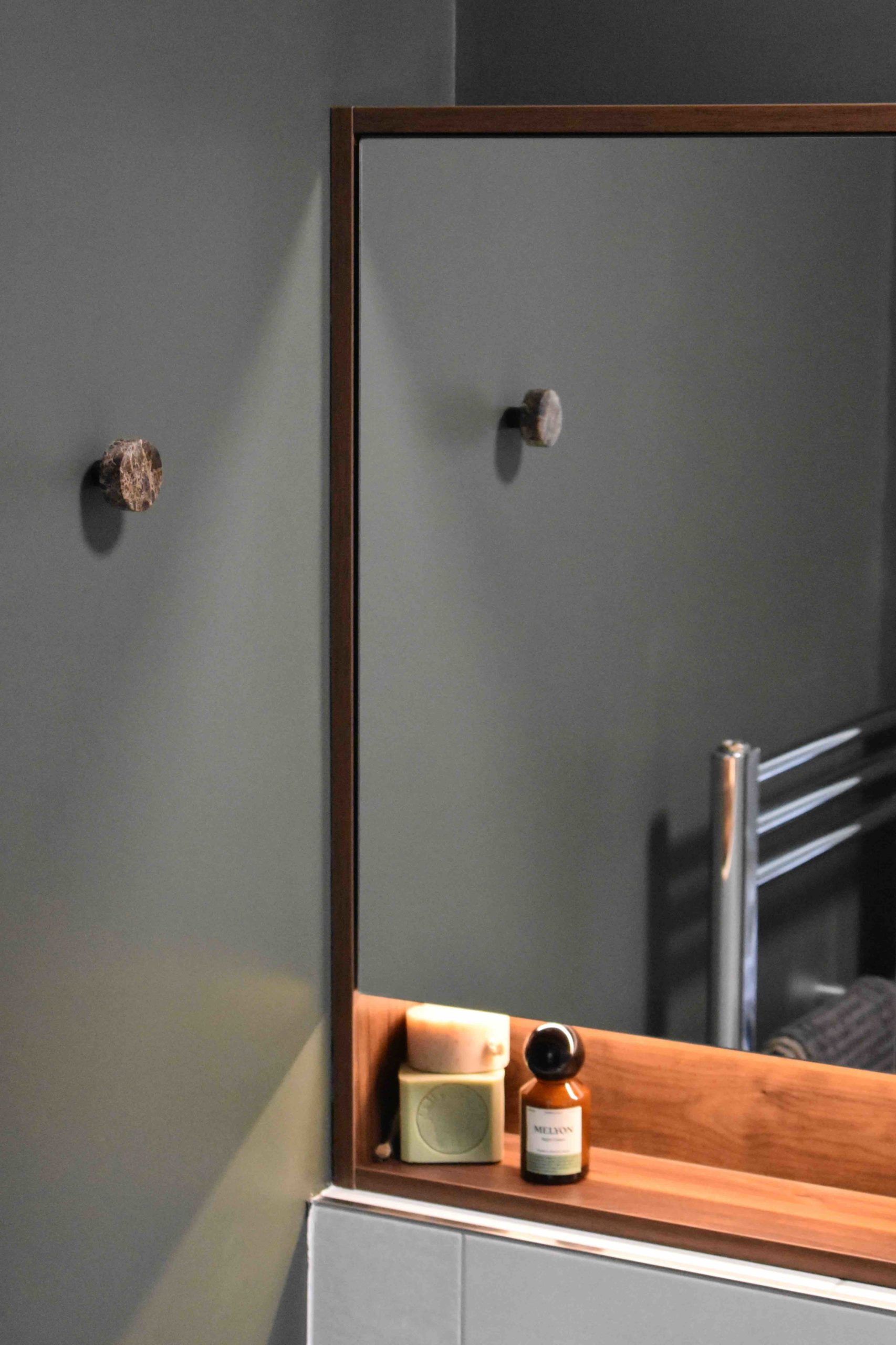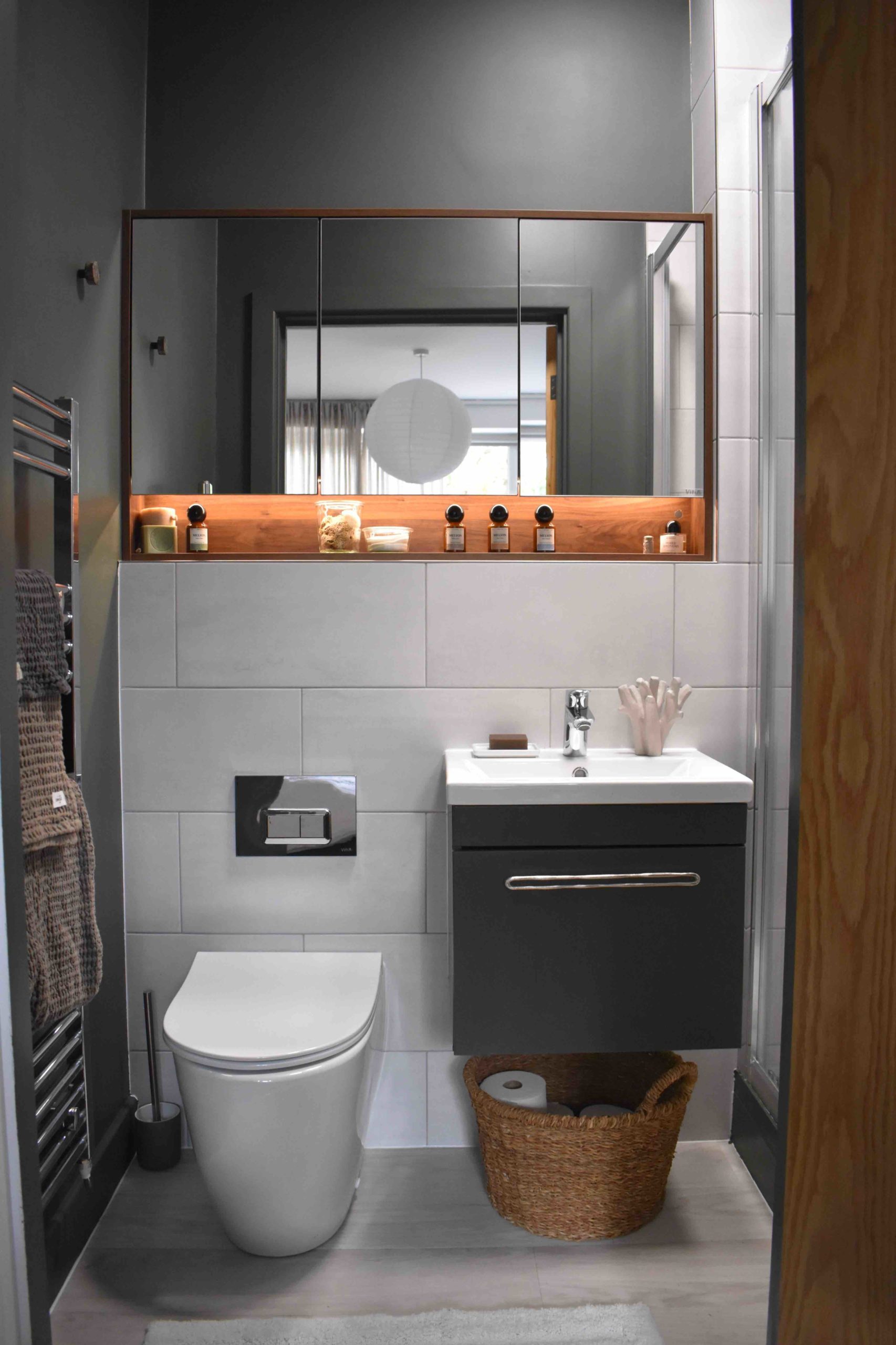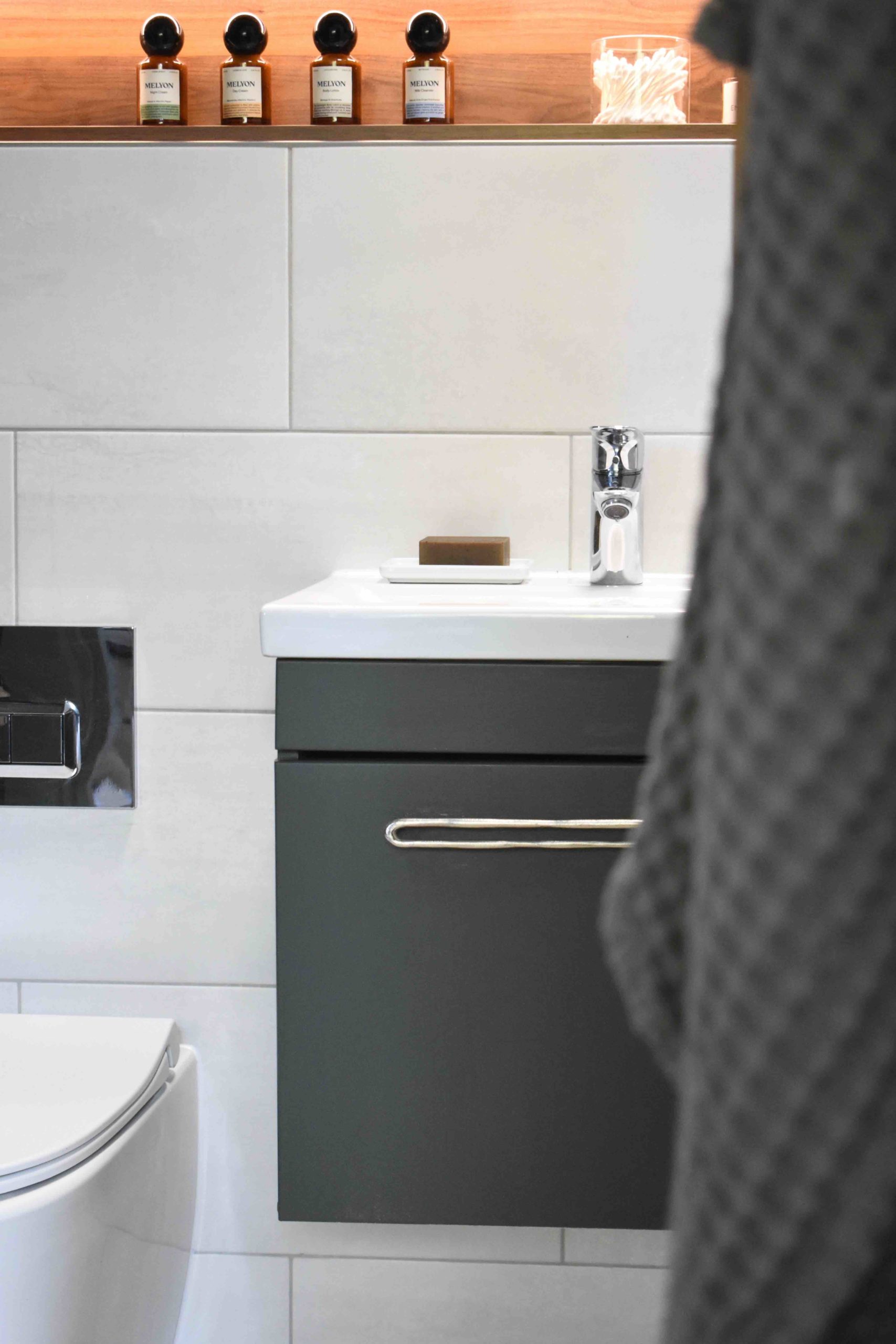 The VitrA shelves offer plenty of space for my skincare and the open shelf serves as a display for my favourite and latest discovery like the Melyon skincare selection. Melyon is a new skincare line from Stockholm, with inclusivity in mind. I love the original and iconic packaging as well as the ethical and ecological aspect of the brand. I have been using the products for only a few weeks but I am already addicted to their rich night cream full of vitamin A to repair the skin while you sleep!
My husband also loves it and uses the day cream every day!!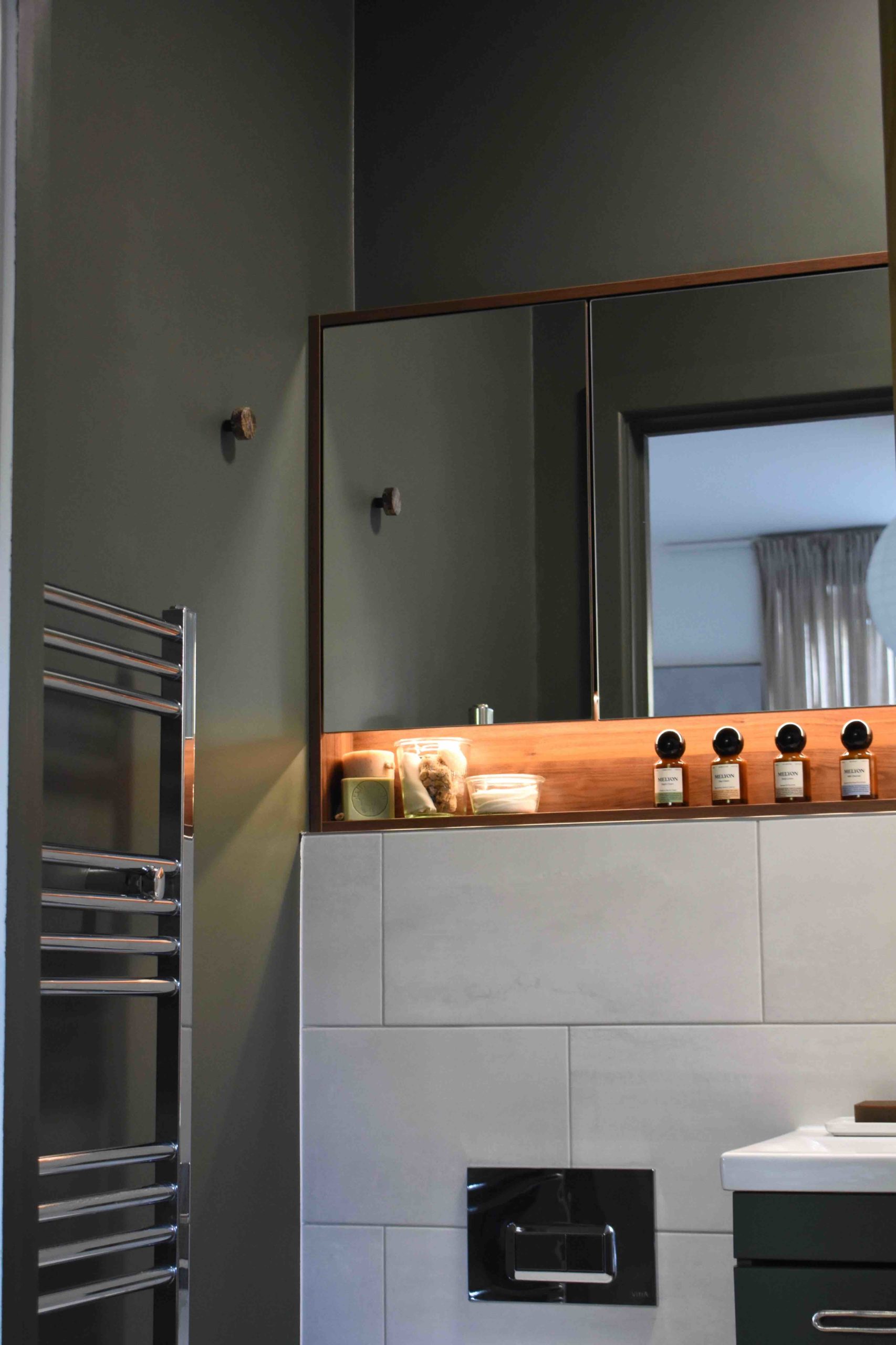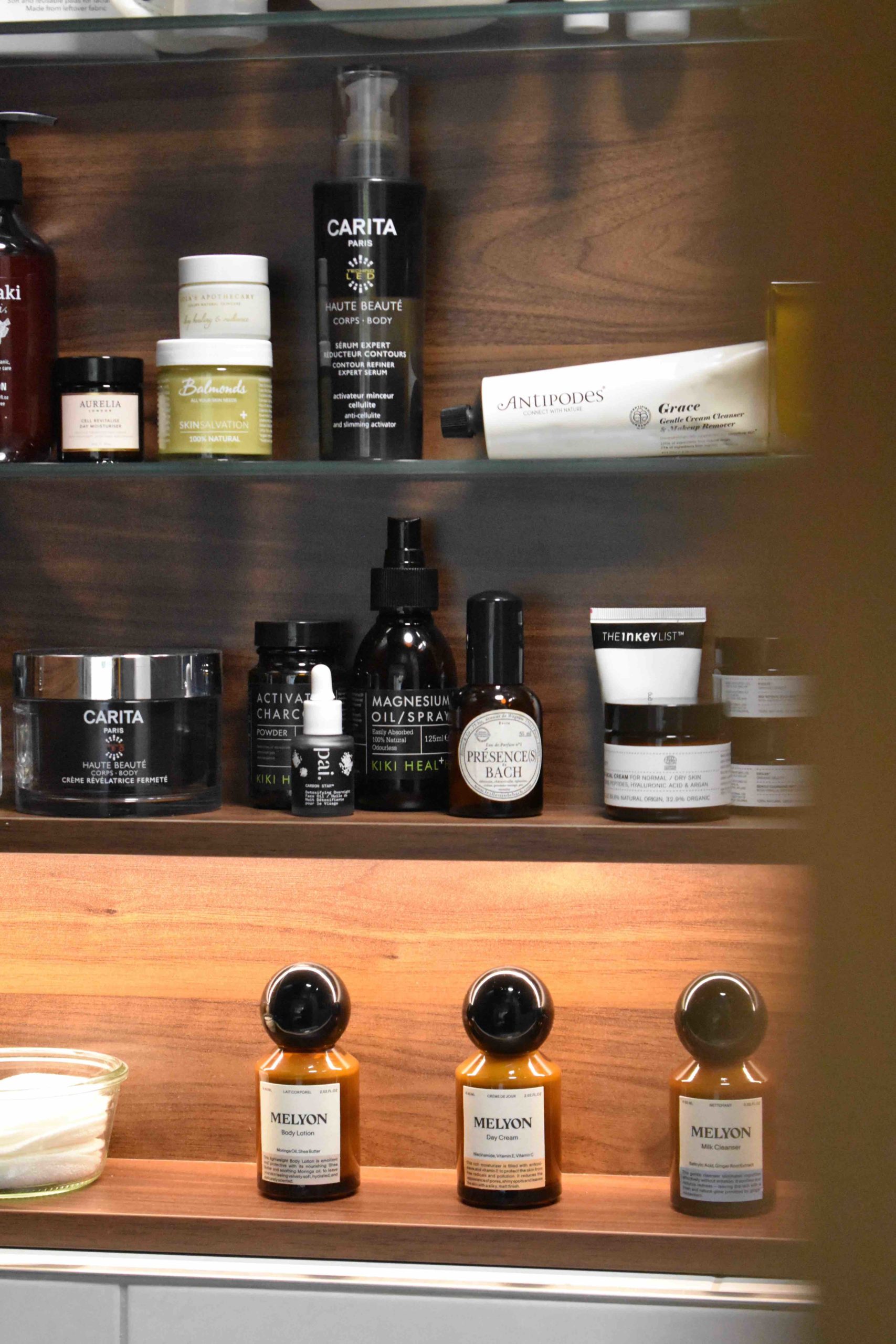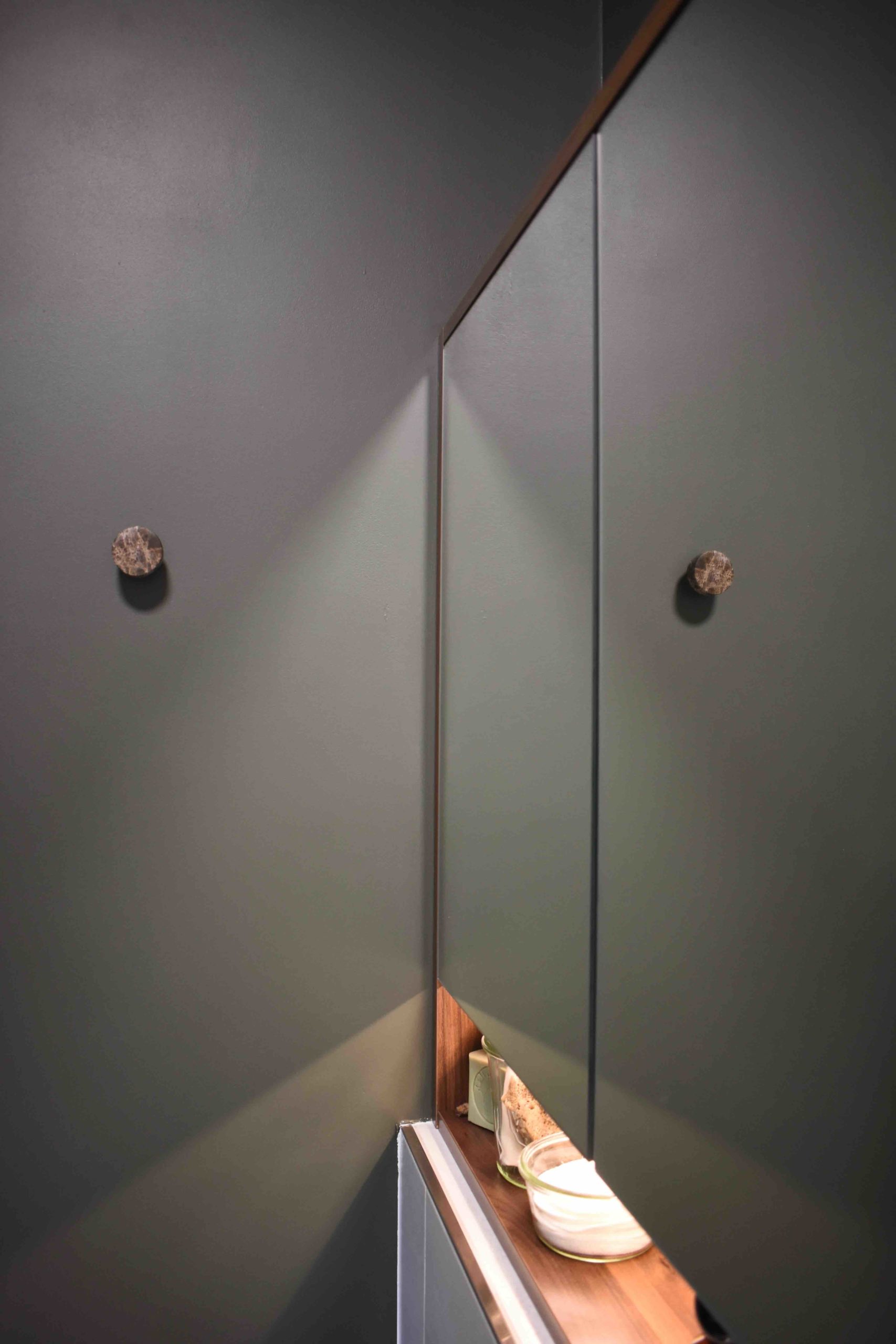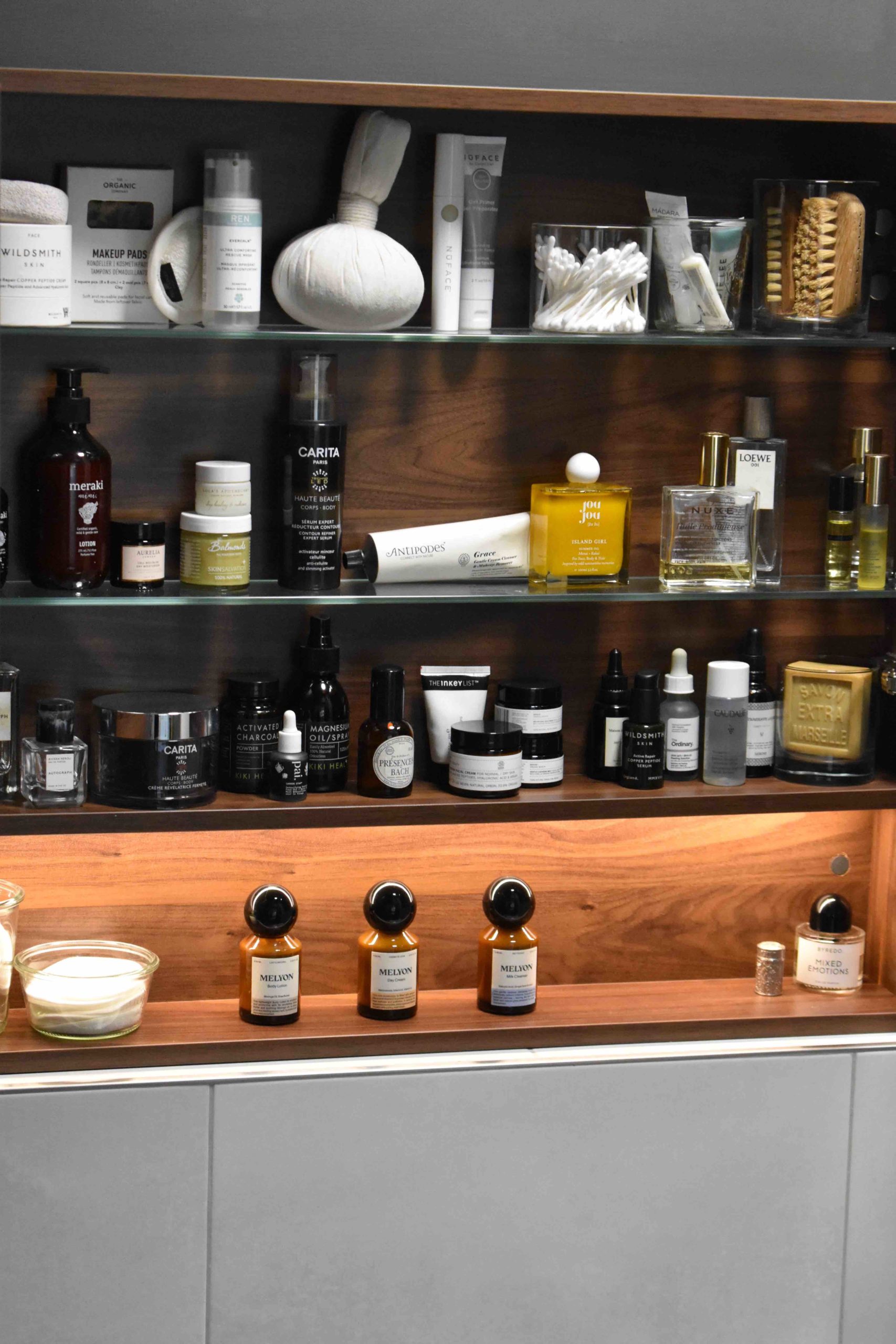 Disclaimer: this is not a paid post. Some of the products were kindly gifted by VitrA and Coat paint for this makeover. All words and thoughts are my own.  Photography © Mathilde Kubisiak/MK Design London