Finding the right colour can be a really difficult. Sometimes it can be a very lengthy process. Colour should be stylish and modern but it is also the background of your entire interior design which let's be honest will stay for a long time. So it is very important to choose a timeless hue that can adapt to all the different mood and new trend we might try in our Home.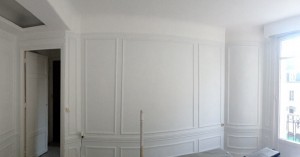 Firstly I would always recommend choosing a concentrated Pigment paint. There are a lot of great brands out there, my favourites being Mineral Paint Maker and Eico. Both are eco-friendly paints with very low VOC (Volatile Organic Compound) which are non-abrasive or toxic and good for our environment.
Regarding colours, the key is to go towards a colour that you feel represents you and try it out. Testing the colours before you make any decision or order large quantities is a must. You should always buy few samples pot of desire shade of your paint.
You need to physically see how your paint will look dry on your walls and especially in areas with different lighting, as this can change the colour dramatically. Select a few samples and apply a coat onto large sheets of paper or on your walls directly.
Take your time making your decision as it is the backdrop for your home and you want it to be unique and timeless!
For this project, we discussed in depth about an original colour that could compliment the existing mid-century furniture.
The clients wanted to something original and modern yet enhance the original moulding of this beautiful Haussemanian apartment. We consider different painting layouts and decided to create a bold contemporary look using E155 from the Mineral Paint Maker.
After long consideration, this colour was the ideal colour to refresh and energise the space. It also creates an illusion of outdoor inside with underlying of blue tone which reminds us of nature. This high pigmented hue changes with the lighting offering different ambiences during the day and warm earthy tones during the evening with artificial lighting. It ticked all the client's requests.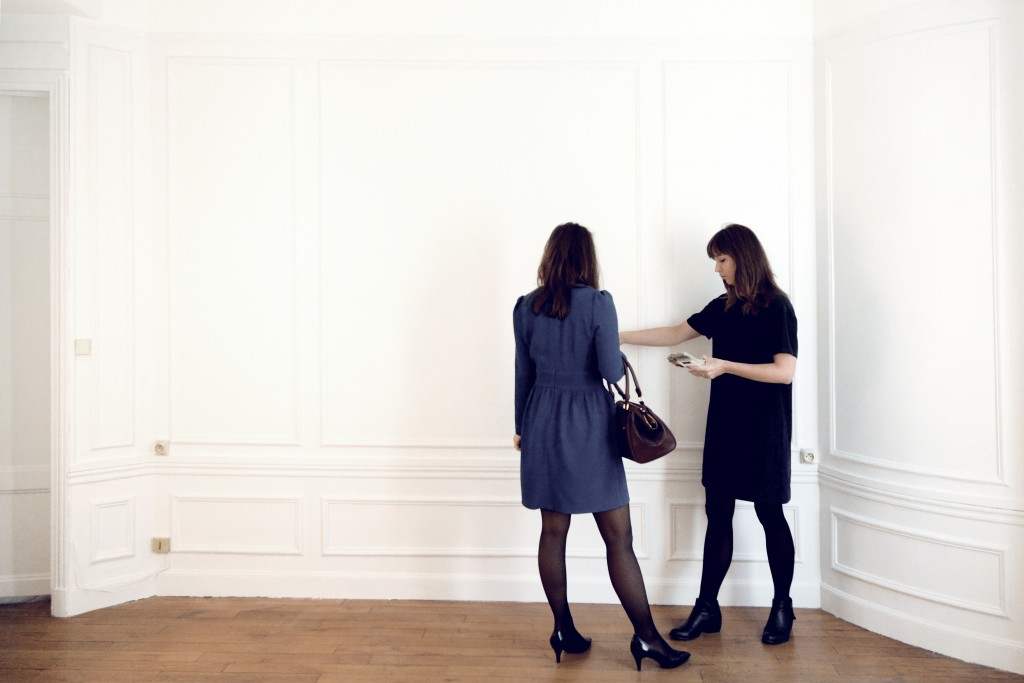 WHAT DO OUR CLIENTS SAY
"I used MK Design services and expertise to refurbish my apartment.
Mathilde Kubisiak helped us in the development and improvement of our apartment right from the beginning.
What was particularly nice was that she listened to our desires, our daily needs and our tastes, in order to integrate them into a project of pertinent and lasting renovation.
We determined the living spaces and the final disposition of the furniture before considering the choice of paints. Mathilde Kubisiak assumed responsibility for the project from start to finish and showed great professionalism and undeniable organisation.
What was striking about Mathilde Kubisiak's work was that she listened to our needs while suggesting new ideas and new arrangements more suited to the space.
She taught us some simple principles that were essential in the layout of an apartment.
For example, she completely changed the layout of our bedroom. She changed the position of the bed, removed all the mirrors and taught us the importance of having two night tables and two identical lamps.
These details have changed our daily lives and allowed us to be more serene and more comfortable in our home.
The changes she made in the apartment are spectacular. We feel much more at home since Mathilde brought us her professional help."
Charline Hay | Paris
CE QUE NOS CLIENTS DISENT
"J'ai eu la chance de bénéficier des conseils professionnels de MK Design pour la remise à neuf de mon appartement. Mathilde Kubisiak nous a accompagné dans le processus d'aménagement et d'amélioration de l'appartement depuis le départ.
Ce qui était particulièrement agréable c'est qu'elle a su écouter nos envies, nos besoins quotidiens et nos goûts afin de les intégrer dans un projet de rénovation pertinent et pérenne. Elle a fait preuve d'une grande patience dans le choix de la disposition, des matières et des couleurs.
Nous avons donc déterminé quels seraient les espaces de vie et la disposition finale des meubles avant d'envisager le choix des peintures. Mathilde K a pris en charge le chantier du début à la fin et a fait preuve d'un très grand professionnalisme et d'une organisation incontestable.
Ce qui était frappant dans le travail de Mathilde K c'est qu'elle a su écouter nos besoins tout en nous suggérant de nouvelles idées et de nouvelles dispositions plus adaptées aux espaces.
En effet, elle nous a appris quelques principes simples et pourtant essentiels dans l'aménagement d'un appartement.Par exemple, sans nous bousculer, elle a totalement modifié la disposition de notre chambre, la place du lit, mais également le retrait de tout miroir, et l'importance de deux tables de nuits et deux lampes identiques.
Ce sont des détails qui ont changé notre vie quotidienne et qui nous ont permis d'être plus sereins et plus à l'aise dans notre appartement. Elle a su déterminer les couleurs idéales en fonction de la disposition des meubles et de la luminosité de notre appartement.
Les changements qu'elle a opérés dans l'appartement sont spectaculaires. Nous nous sentons vraiment à la maison depuis que Mathilde nous a apporté son aide professionnelle.  "
Charline Hay | Paris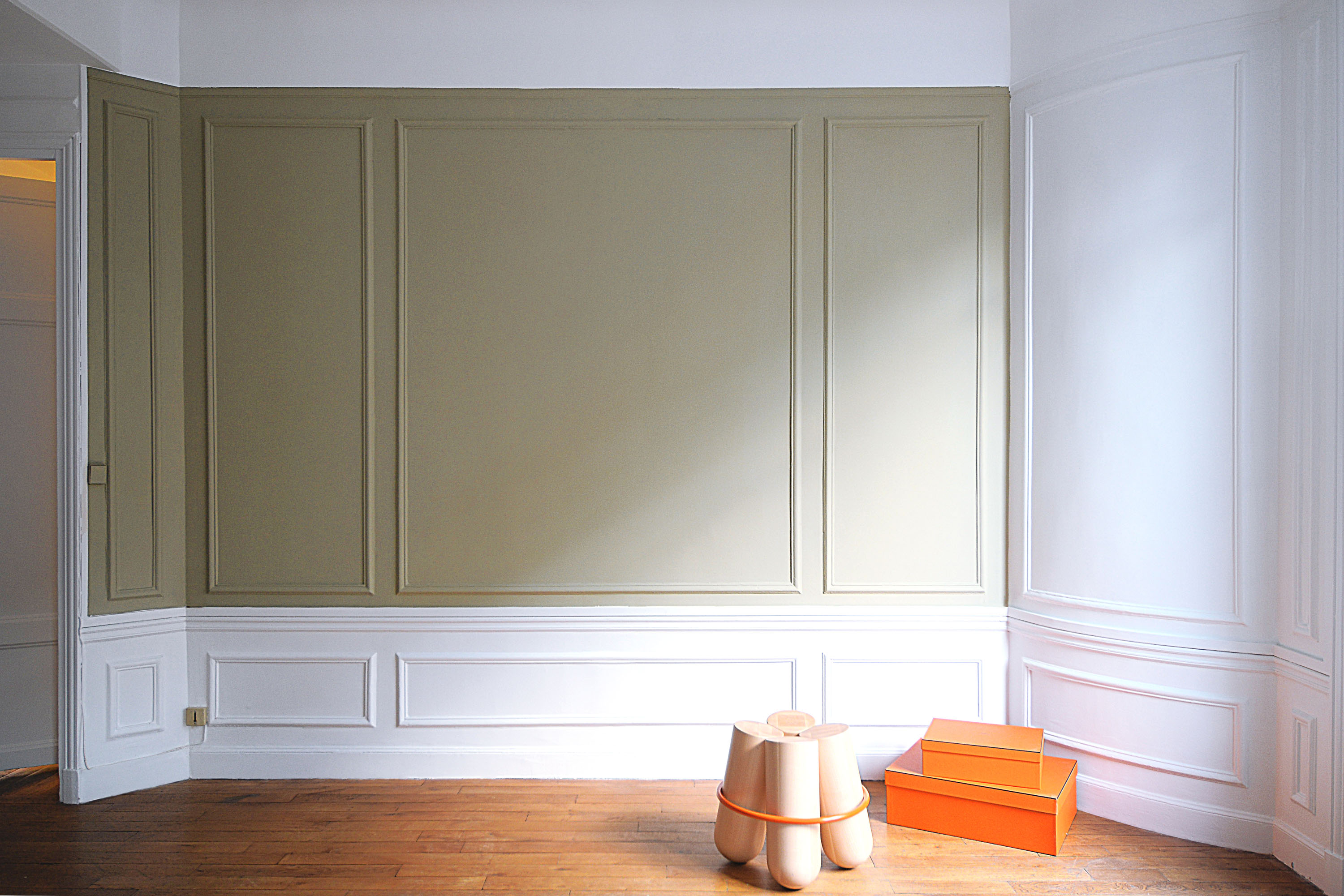 For or any enquiries on finding the perfect colour, email me directly and I would be delighted to help!
Join the conversation