Who knew having a baby would have been such a shift in lifestyle. No matter how prepare you are, no-one or nothing can ever make you ready for this roller coaster of emotions, stress and love…I still cant believe I am a mother!
Having this little boy in my life put everything in perspective, it has been two months now and it's true what they say about how precious those times with your newborn are and how quick they goes by…he already has triple in size and even if he sleeps most of the time, he has the most wonderful size…well of course I am in love!
Of course everything in my life has been about baby stuffs lately, googling constantly newborn's "how-to" and rocking him for hours to put him asleep…and I literally mean hours! So I thought I will share the latest baby products I have been using and help me a lot!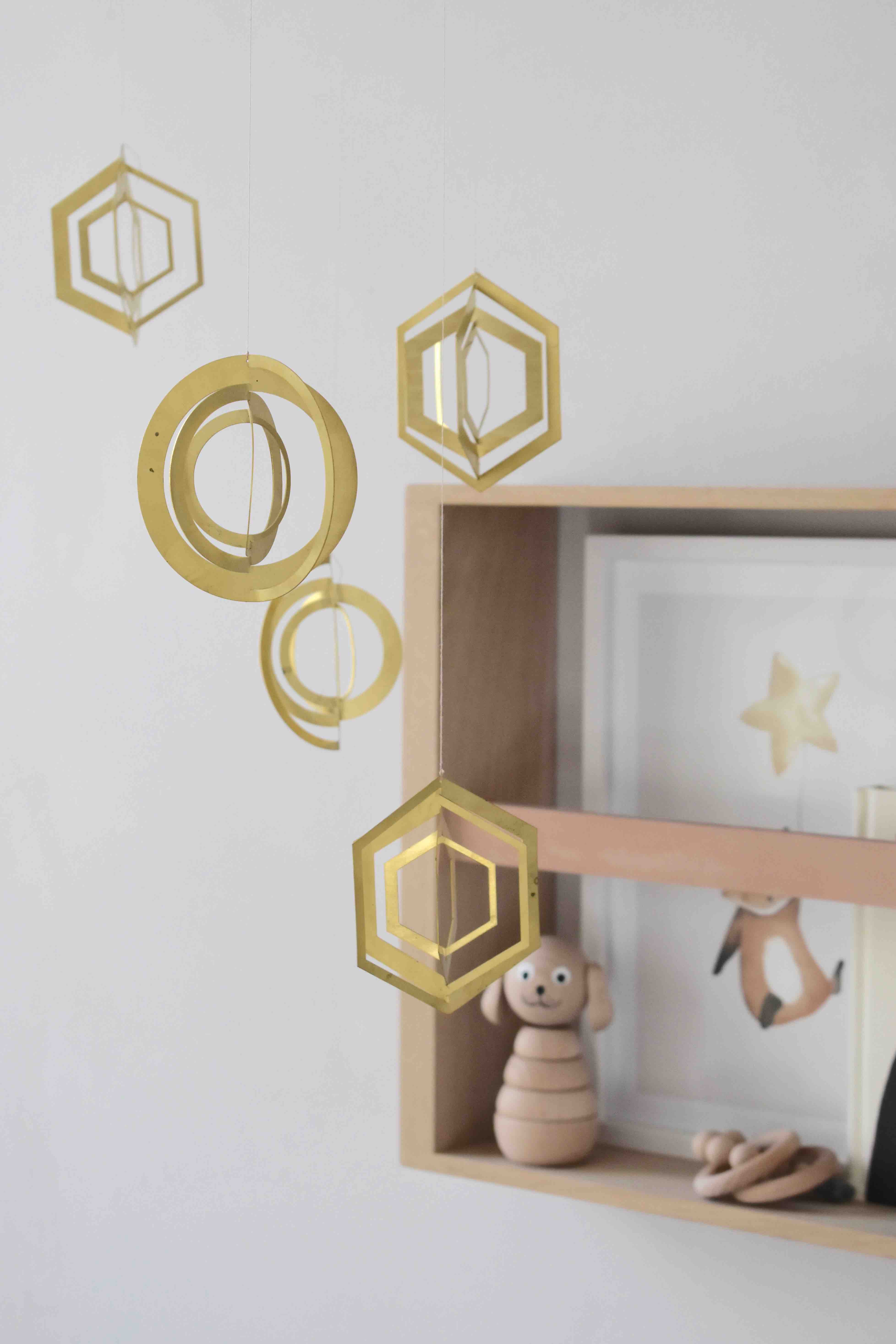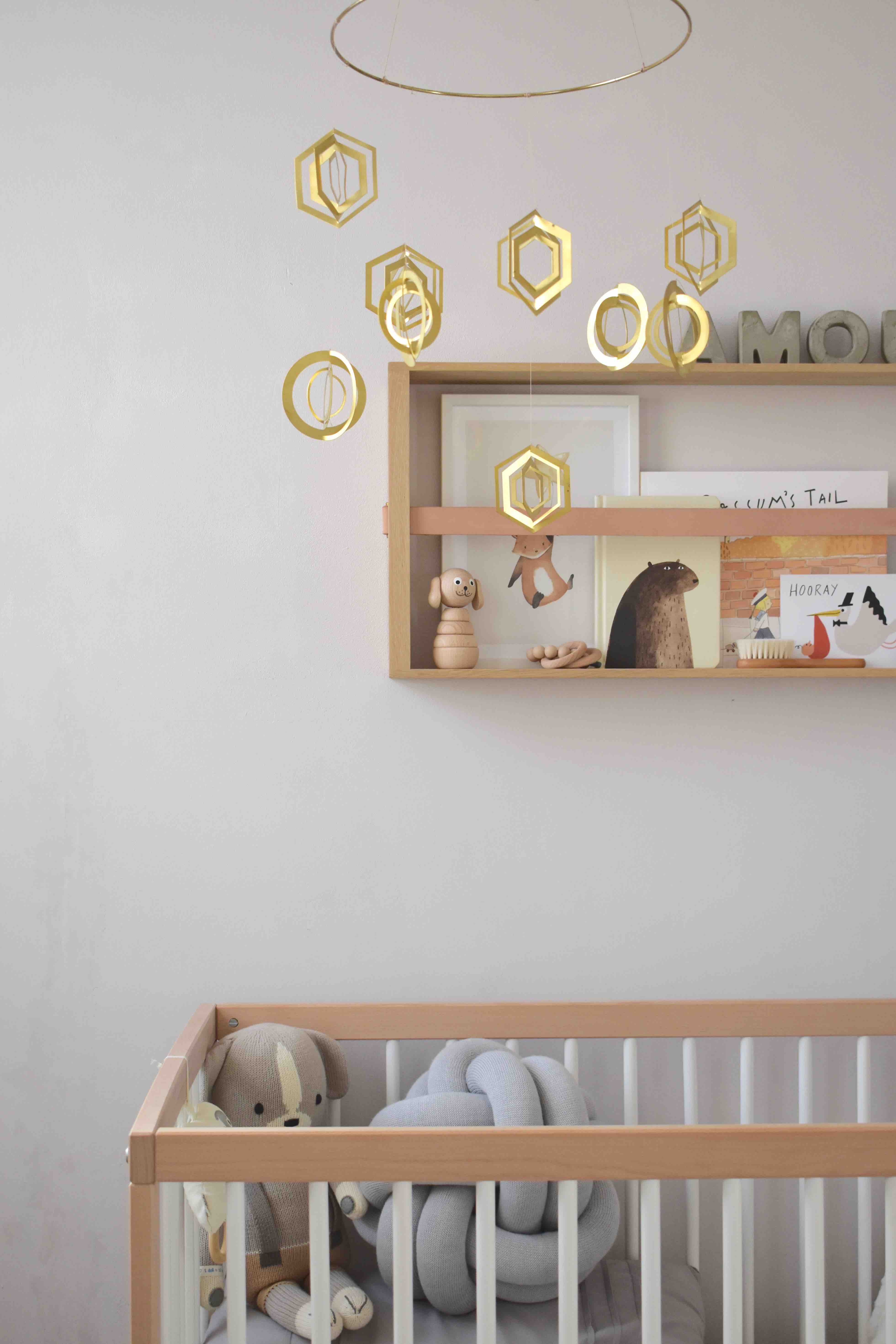 Here is my latest nursery upgrade with my up-cycling christmas ornaments and ring from Strups !
⁠Christmas might be over but I decided to make the most of my decoration by using christmas ornements as a baby's mobile. I love how the light reflects on the brushed gold laser cut shapes and they are perfect to create an eye catching interest for your little one.
The gold ring, usually the base of my minimal wreath is ideal size for the pendant structure.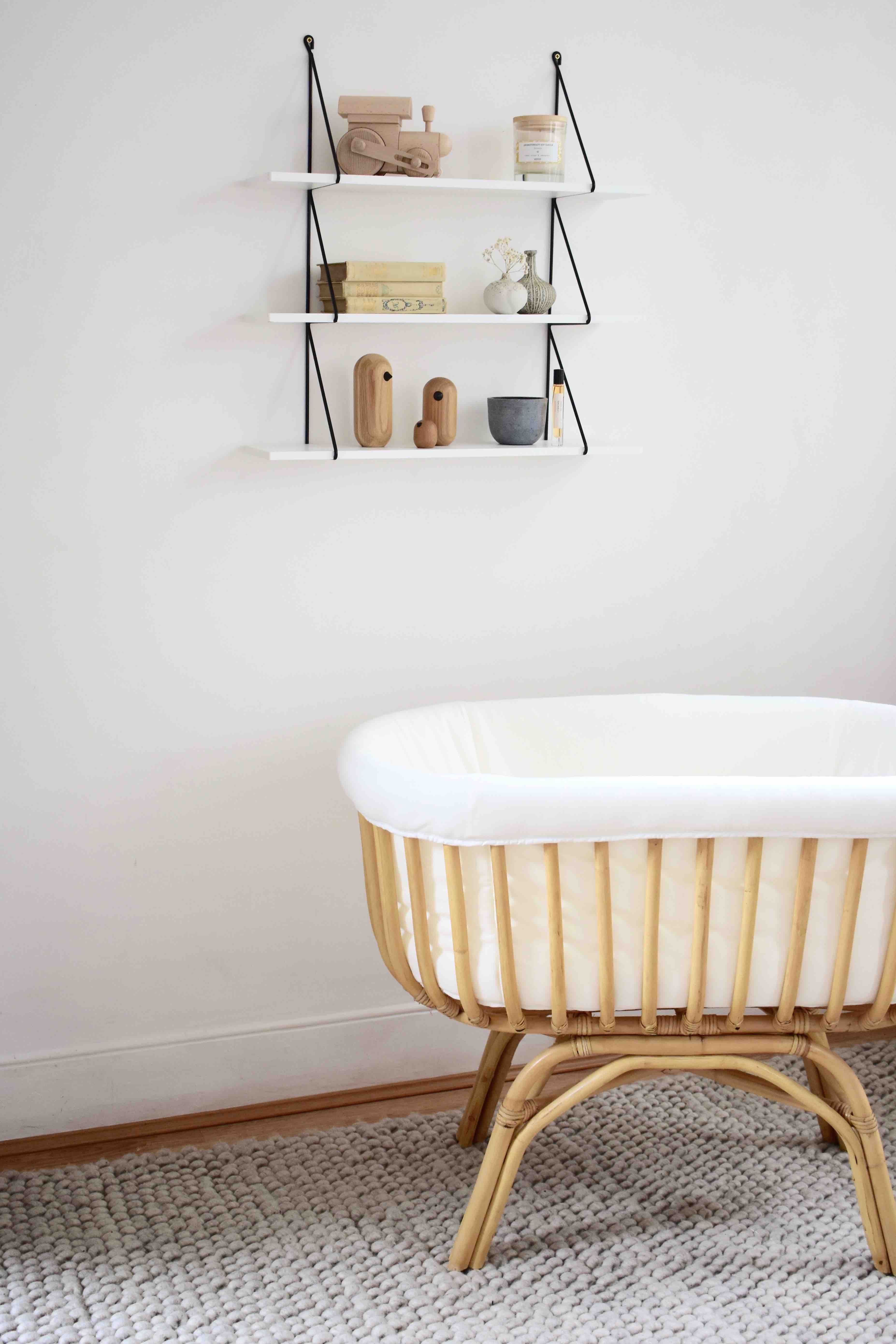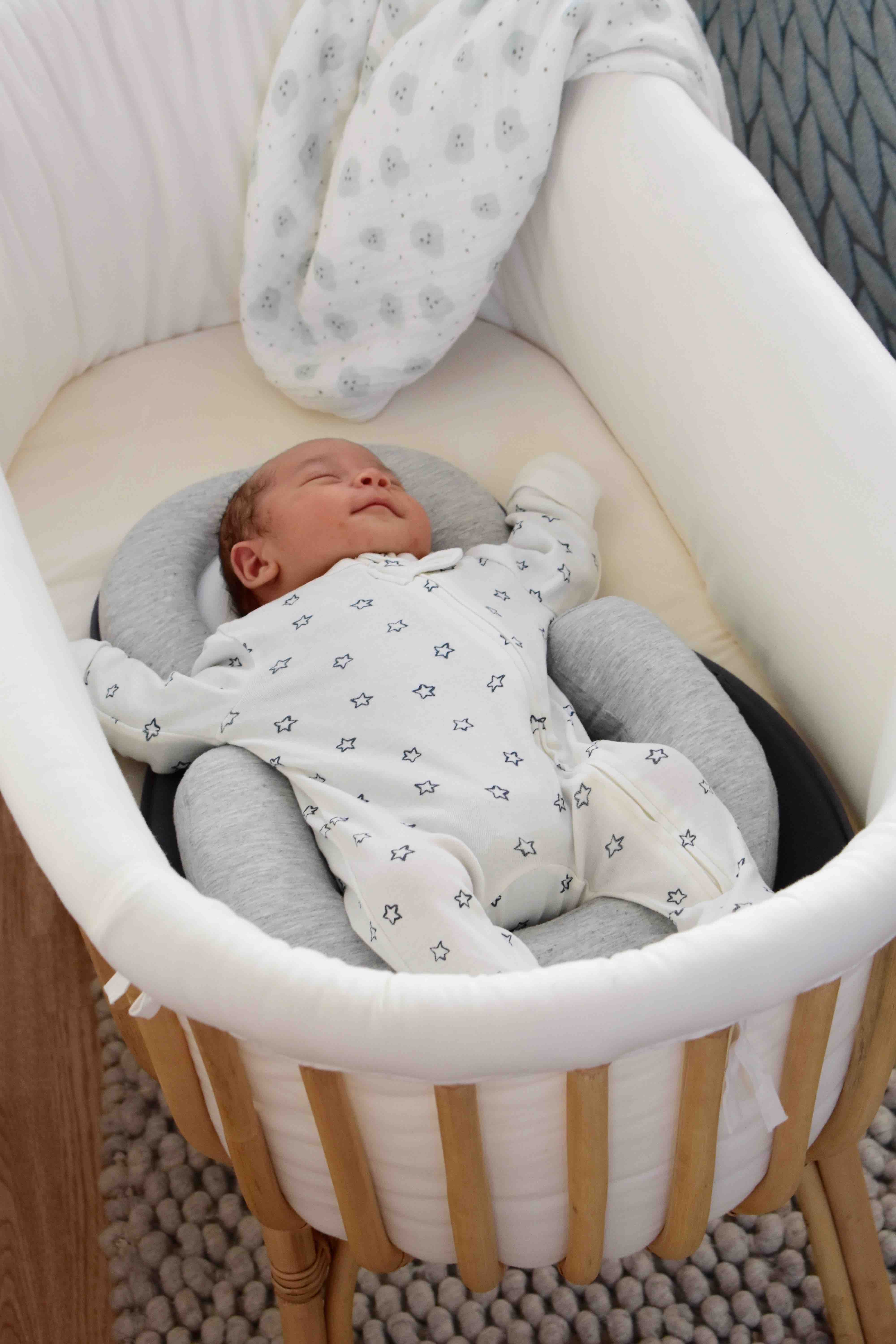 So the first product I have been using from day one is the Cosydream from Babymoov and I really recommend it. We knew we wanted to do co-sleeping for the first few months and this beautiful rattan crib from Childhome is perfect in shape and size for our small bedroom.
To prevent plagiocephaly (flat head syndrome) and encourages the development of a desired rounded shape, the cosydream has a built-in head pillow offers a subtle yet unique cushioning to baby's skull. The padded roll elevate his leg which offer a comfortable position, close to a more familiar fetal position . It is detachable and adjustable as baby grows. The elevation of the legs also helps to prevent reflux while creating the ideal back position and discourages any strain on the stomach muscles that might occur if baby's legs were completely flat. 
It can fit into every cribs, cots or just on your sofa for his nap!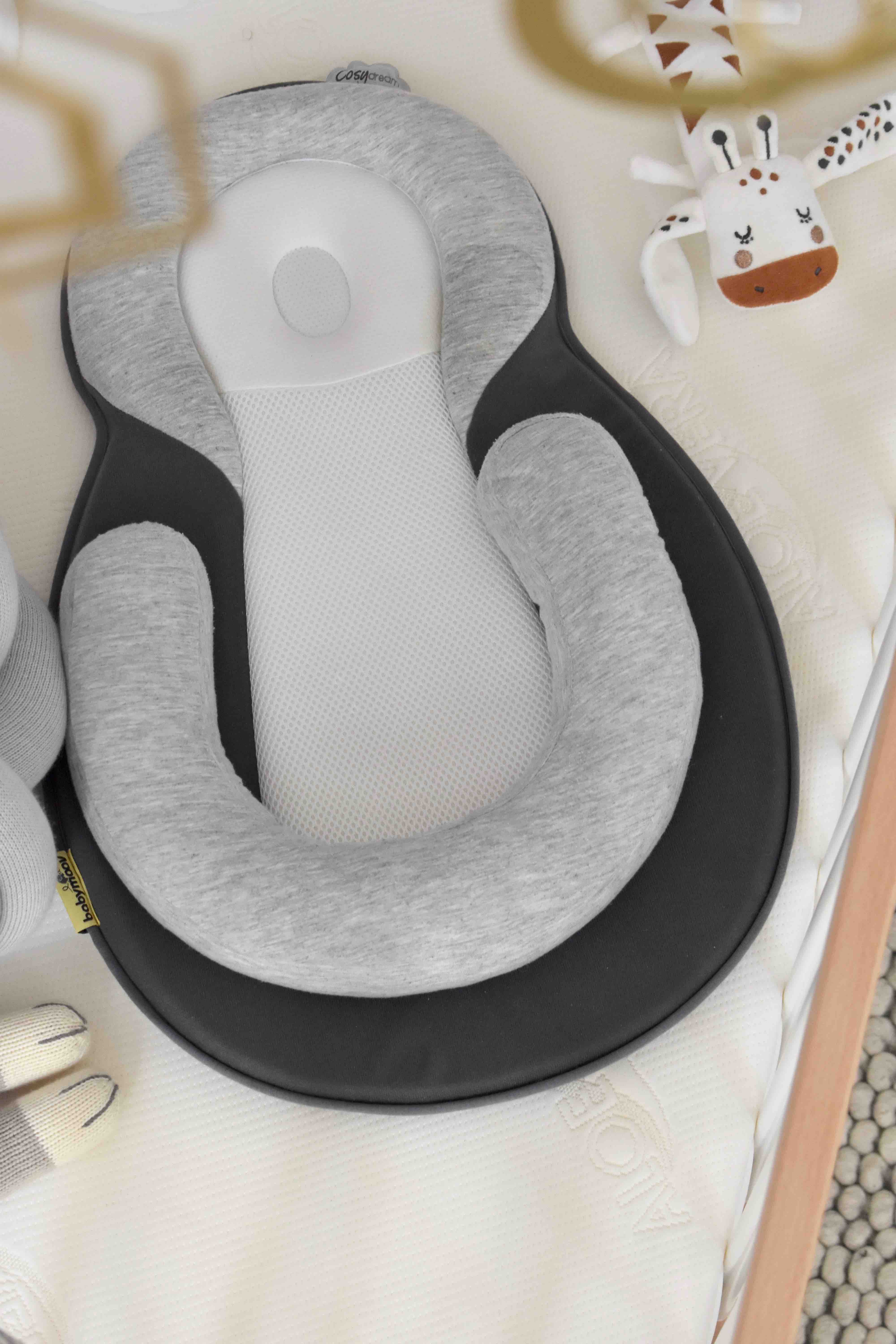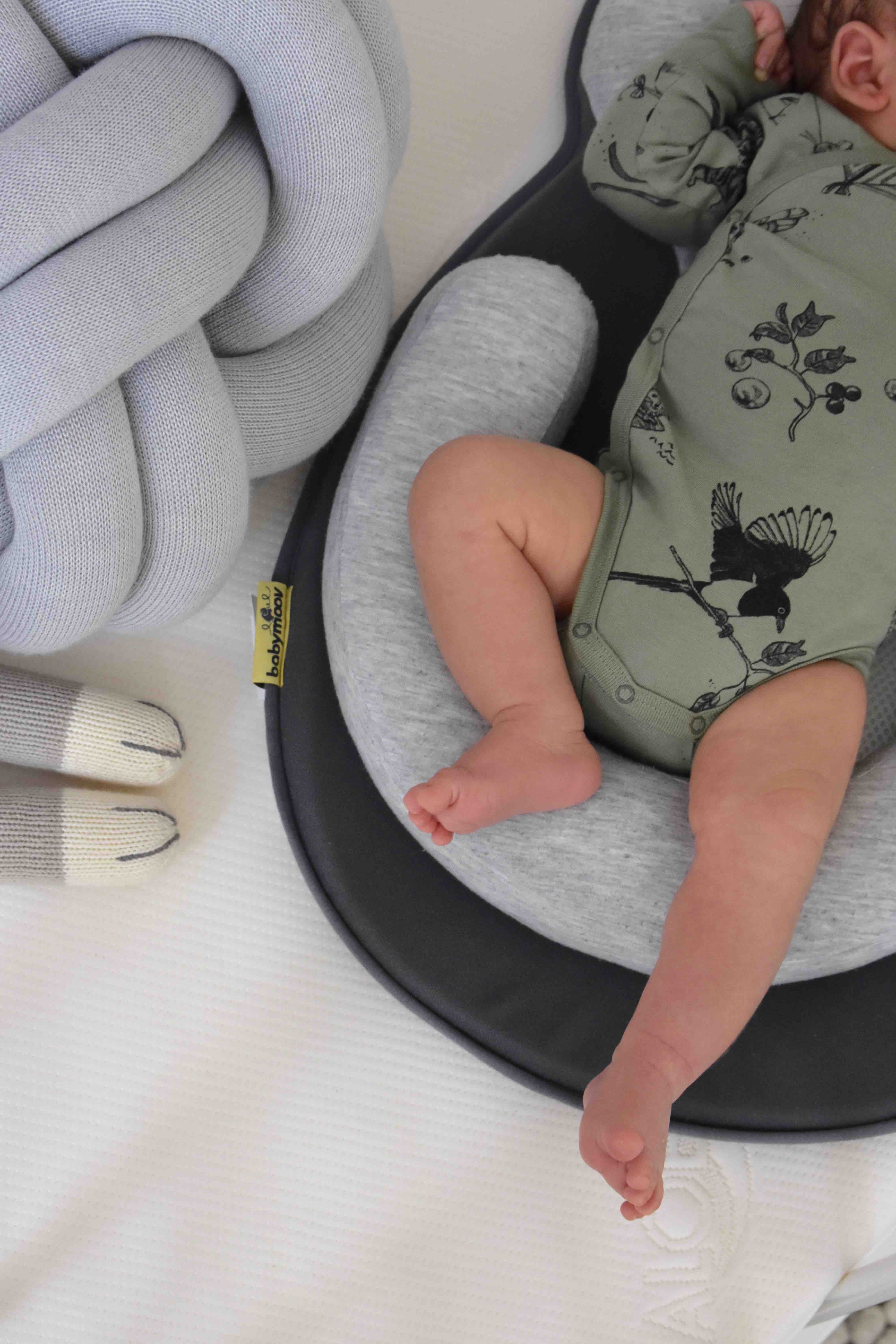 As  I mentioned on my Instagram recently, my little baby started to have some "collics" from week 3, usually in the evening he will cry, I do believe it is a mixture of both gastrointestinal discomfort and emotional tension. It is very irregular but some evenings he cries non-stop until midnight. I find out that keeping him close using a sling really help him and me relax. I love the Smallhausen slings there are really soft and stretchy made from natural, breathable and sustainably sourced fabrics.
I really love heir beautiful patterns which add some lovely design to your outfit! I picked this grey little kisses and baby cactus as my two favourite one out of their lovely collection. Like skin to skin contact this really helps us bonding and he is way more peaceful when he stay up close an hour or two a day. It also helps him regulate his temperatures and lower his stress level and mine too!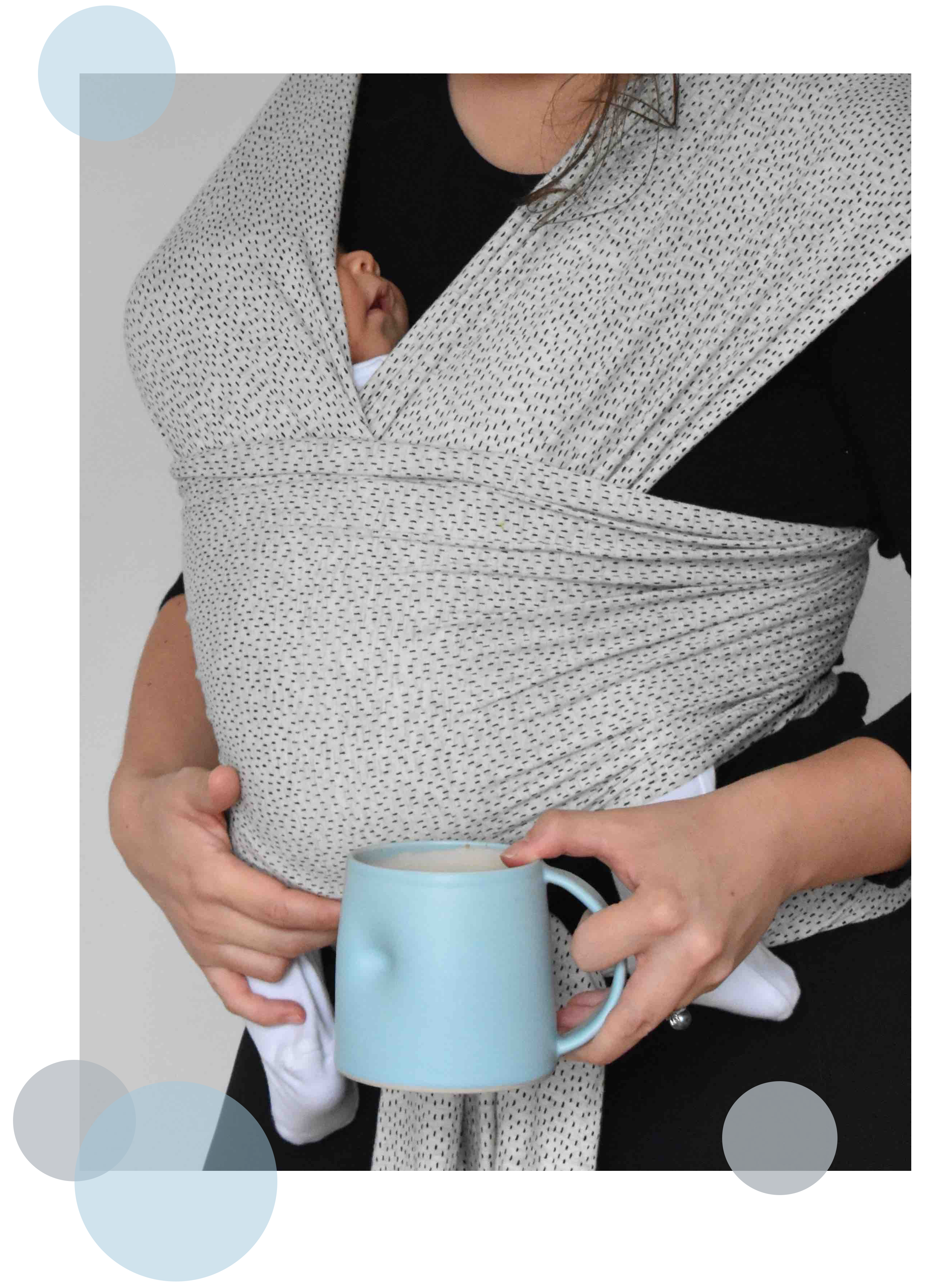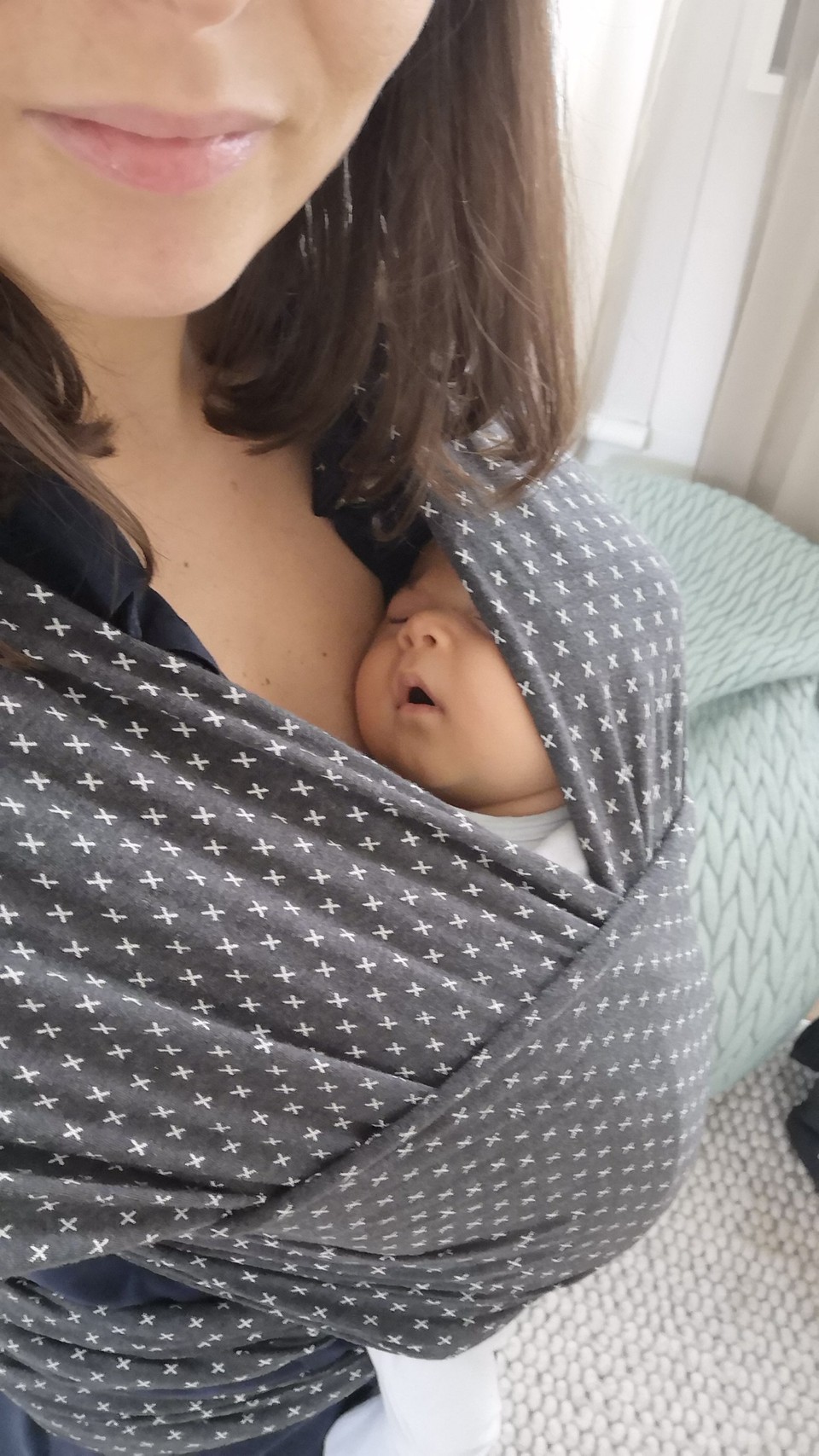 I found that having a bath in the evening relaxes him and helps him fall a sleep. I have been using the Aquanest Baby tub from Babymoov. I really wanted to have a bath with a stand, so you don't have to bend over your own bath. As I had some back problem in the past, having our baby at a waist level allow us to maintain the baby while not bending in awkward positions. Its size is perfect, from birth to approximately 18months old baby, I wanted It is large enough so the baby can be fully immersed in water and enjoy some gentle rocking motion.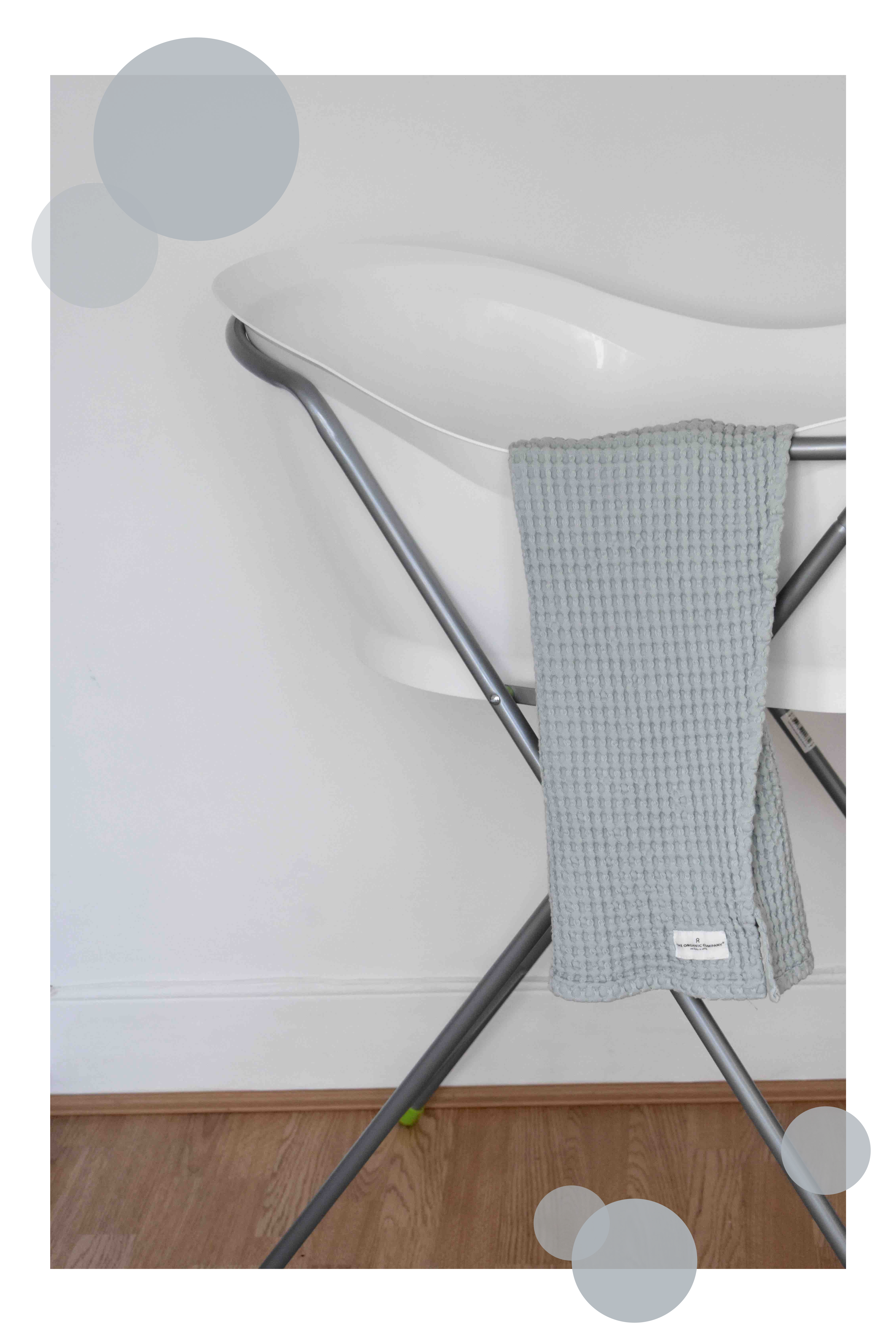 I would recommend to buy an extra transat so you don't need to hold the baby at all time.
The baby bath also comes with a heat diffuser that keeps the water at the right temperature for over 10 minutes. It is really useful as the bath temperature should only be 37degree it can get cold quite fast. It takes a bit of space and you definitely need some extra storage but it's very practical.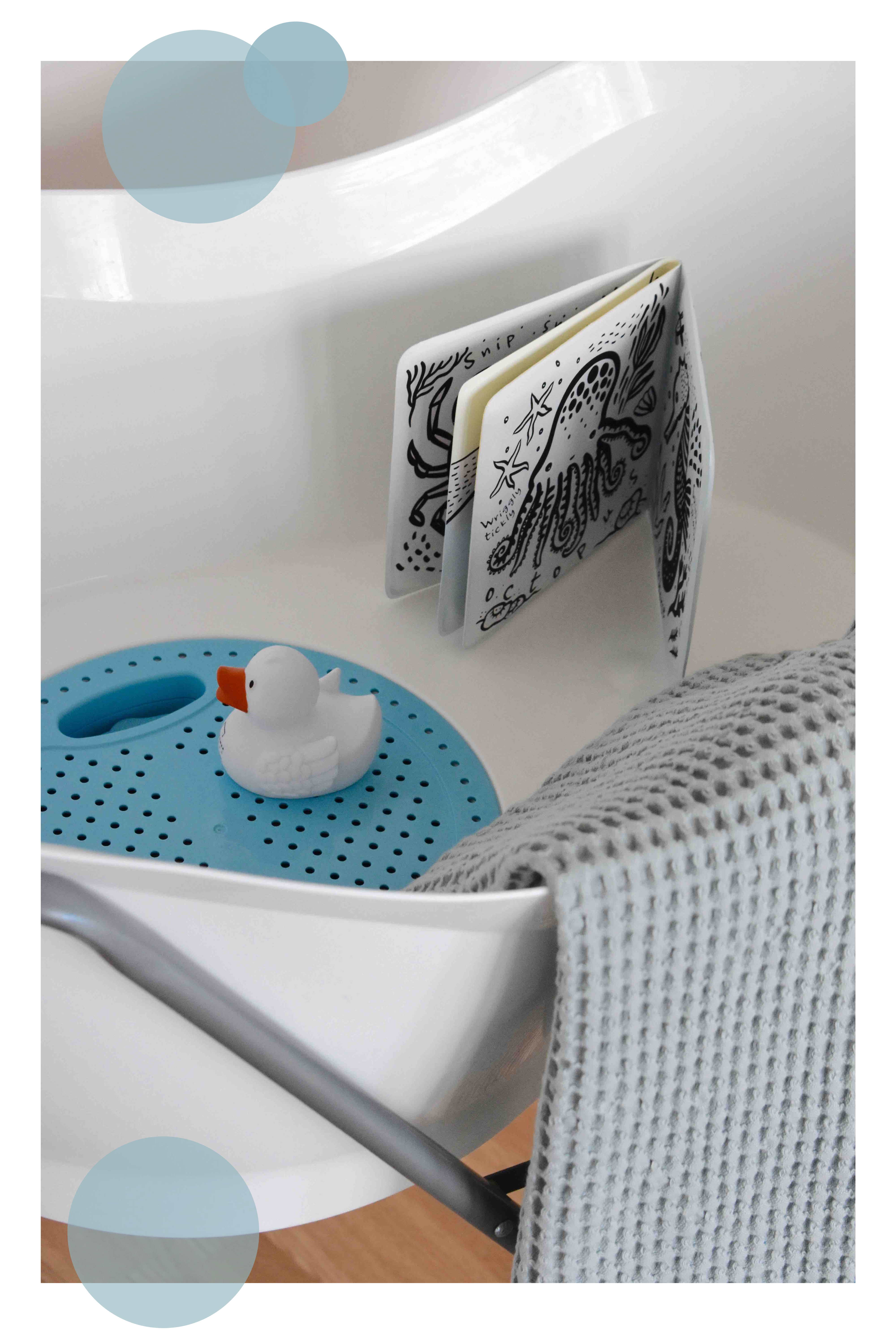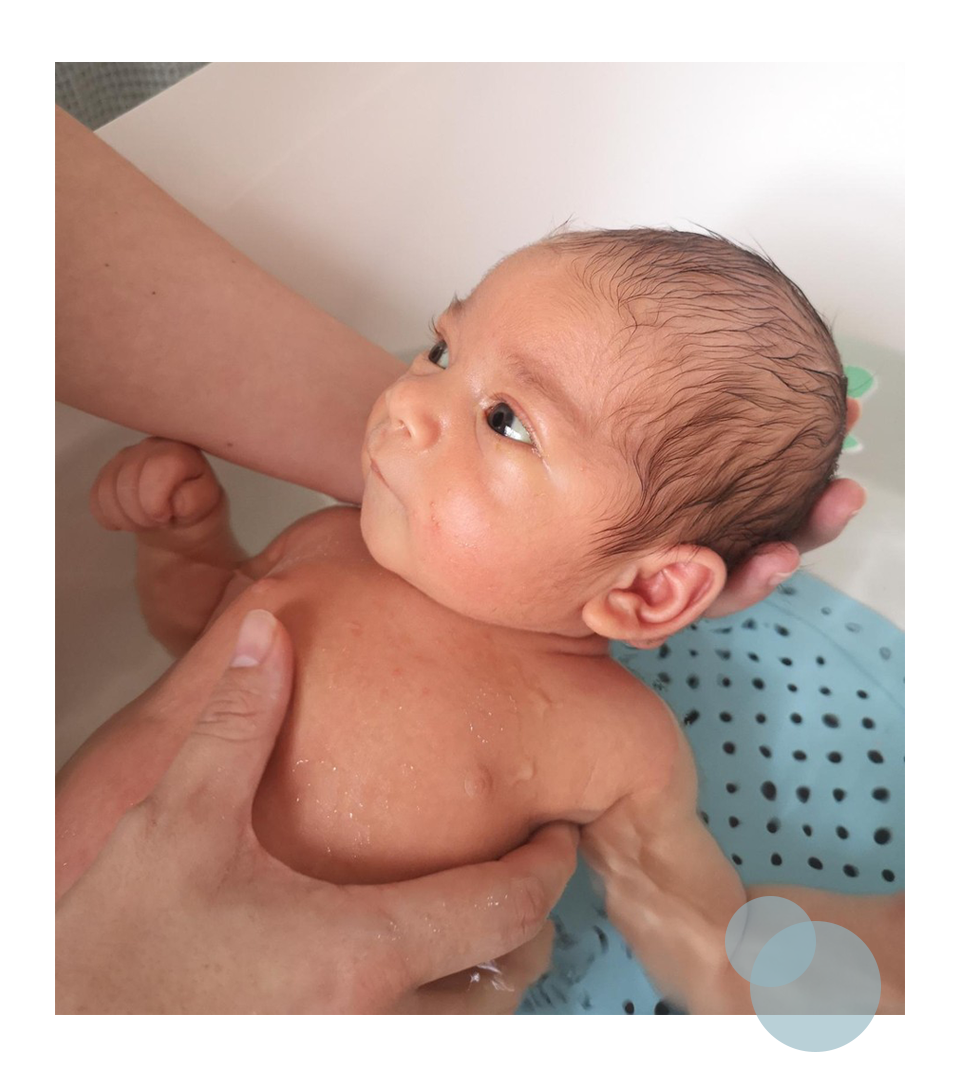 All of this have helped me a lot, I tried in the beginning to give him some probiotics but I was advise by a  professional to take any tablets myself and it will go thought the milk instead of disturbing his "virgin gut". Of course if you have any advise or recommendation please let me know. I would love to hear from my lovely mums and dads reader. I hope this helped.