Share The Love This Valentines With These Gift Ideas
Valentine's Day is just around the corner. The streets are lined with love hearts, dinner dates are booked, and red blossoms are blooming across the nation. Wherever you stand on the commerciality of February's most famous calendar date, there's no denying that it provides an opportune, additional excuse to shower those we care for with thoughtful cards, gifts, and our time. And let's be honest, sometimes we need a little nudge from time to time.
Thinking outside of the chocolate box
Conventionally, Valentine's Day has been reserved for lucky in love couples. But, that really needn't be the case. We all know that love extends beyond our spouse or that special someone. Our children, our friends, our family are each worthy of our appreciation. What better time to show it than on Valentines. Perhaps, unexpectedly too, given tradition.
With this in mind, I've put together five of my favourite affordable, and oh-so beautiful Valentine's gifts. Whether you're gifting them to a girlfriend or your grandma, they'll certainly brighten the home and a touch of love to their living space.
1. CSAO Je T'aime Cushion Cover
Perfectly handcrafted by artisans in Dakar, and authentically designed by The Company of Senegal and West Africa (CSAO), this colourful cushion will bring a smile to any lucky recipient's face. Embroidering words of love onto pillows for the marital home is a time-honoured Senegalese bridal tradition. As such, it seems only fitting that proceeds support women of the Dakar community.
What's more, the hint of red in these pillows, whichever design you opt for, will add warmth and passion to the bedroom without overpowering the overall feng shui.
2. Archivist Perfect Match matches
Do you have a beloved candle enthusiast or cook amongst your family and friends? The ArchivistPerfect Match matches are a beautifully designed, quirky, original gift, which will allow your love to ignite their flame, time after time.
Gift matches with a candle for loved ones who are struggling with day-to-day difficulties. Bringing a purifying energy into the home, candles can help relieve the angst of everyday stress when placed in the centre of the home.
3. Poppy's Papercuts Valentine's Day card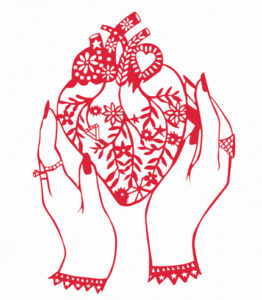 The history of the Valentine's Day card exchange dates as far back as the 1400s, prior to which, verses found in contemporary cards were sung to prospective and long-term love interests. In fact, the oldest Valentine's Card in existence can still be seen, today, in the British Museum.
If you fancy carrying on this much-loved tradition, get with the times; add a touch of feminist glam to your February 14th, with this alternative arty card collection from Poppy's Papercuts.
4. La Maison du Savon de Marseille Savon Je T'aime Soap
Enriched with organic shea butter, the 'I LOVE YOU' Je T'aime soap will nourish and soften the skin of your special someone. Suitable for all skin types, this scented soap is an ideal little gift for female friends, mums, and grandmas too. Say I love you with soap!
5. LEMPI Scented Candle & L'Artisan Parfumeur Amour Nocturne Eau de Parfum
Keep things traditional and gift a candle. The LEMPI scented candle is a 'timeless blend of rose and strawberries, garden peony and oakmoss'. Borrowing its name from the old Finnish for love, this gift symbolises the most shamelessly romantic period – ideal to gift with those Archivist Perfect Match matches.
Just don't forget to pair them with the warm, tender scent of Amour Nocturne.